Finding the QuickBooks License Information and the product number is very important you want to reinstall the software and keep track of records and operations if you upgrade to a new computer. This article will list some possible actions to take in such a situation.
You can try looking for your QuickBooks installation numbers in any one of these:
The original product packaging
User-added image
The email you received to confirm your purchase of the product from Intuit.
The computer where you originally installed the product.
The email received when the latest version of QuickBooks was launched if you subscribe to a monthly or annual product subscription.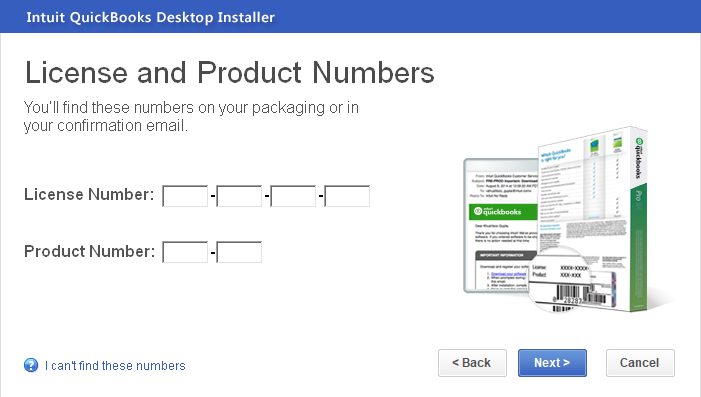 How to locate QuickBooks License Information?
These are the steps to follow in case you are unable to find the QuickBooks installation numbers.
Start the installation program by inserting the installation disk into the drive. The installation program should start automatically
Select Reinstall
Make a note of the numbers that appear in the QuickBooks License Information and Product Number window
Choose Cancel.
If you are still unable to locate your QuickBooks  installation numbers, you can try following any of these steps:
Visit the QuickBooks License Look-Up page to retrieve the numbers. If the lookup tool cannot locate your license number or key code, the web page will provide a link for you to contact customer service for further assistance.
You can log in to your account to find the information if the license lookup is unsuccessful based on your phone number.
Select the Contact Us link and choose your product for the right number to call if you are unable to log in.
Ensure that you have the required proof of purchase to obtain a license or key code number before you call Customer Service,
Provide the Order Number from your Intuit packing slip to the Intuit customer service representative when you call if you purchased QuickBooks or Point of Sale directly from Intuit. You can find your Intuit order number from the Order Status page.
Also Read: Overview of QuickBooks Advanced Inventory 
Get our expert Quickbooks ProAdvisor on call to resolve your query in no-time.
For finding the lost QuickBooks License Information, try following these steps:
For a downloaded product, search the purchase confirmation email you received from Intuit
Look for the brightly colored sticker on the original CD envelope if you purchased QuickBooks on CD
The member support site is best for ProAdvisor members to look for installation codes
You can get help finding your QuickBooks license information from the License Look-Up Tool if you have previously registered your QuickBooks software
If you have not previously registered your QuickBooks software. You need to contact QuickBooks support directly so that they can run the correct QuickBooks License and Product code of your QuickBooks version. You can also ask for help if you need help installing QuickBooks at QuickBooks Tech support.
The best procedure to follow in such a situation is to call the QuickBooks ProAdvisor Support Phone Number. The Certified ProAdvisors at QuickBooks are prepared to handle such an issue and will be indispensable in providing guidance on what exactly to do if you have lost your QuickBooks License information.
Thank you for visiting our site. We are always ready to help you with any of your queries related to QuickBooks. We feel glad helping you, and you are always welcome over here on this platform. Further, if you ever feel the need of taking advice from your fellow business owners that happened to be our existing subscribers, you can visit our thriving QuickBooks Community.