QuickBooks offers a wide range of reporting tools which gives you a bird's eye view for every aspect of your business. You still may need some extra features to export data into Microsoft Office application. QuickBooks support ODBC (Open Database Connectivity) interface, it allows you to export data from company file to various programs like Microsoft Excel, Microsoft Access, Crystal Report, File maker, Alpha, or .net. In this way, you can create a custom report of QuickBooks Enterprise ODBC driver.
This software suite works seamlessly with QB Enterprise and helps you create accurate reports of financial transactions.
Export Data Files
QuickBooks Enterprise integrated with ODBC, you can easily export your data to Microsoft file application. Moreover, it simplifies your work and enables you to create custom reports regarding financial transactions effectively.
Steps to Consider while setting up QuickBooks Enterprise ODBC Driver
Firstly, open QuickBooks and go to Utilities under the Menu bar.
Select "Configuration ODBC" from the drop-down.
Now turn on "Test Connection to QuickBooks".
Navigate to Message option and select "Detail tracing".
Turn on "Display Optimizer status Panel".
Go to the Optimizer tab and check whether path contains ODBC.
Choose the option "The last time I pressed one of the load Data Buttons".
Lastly, Click on Apply and QuickBooks will configure the driver.
Get our expert Quickbooks ProAdvisor on call to resolve your query in no-time.
How to Configure QuickBooks Enterprise in ODBC?
Choose File name >> Utilities >> Setup ODBC.
Click on the General tab.

Use the company file opened in QuickBooks.
Enter QuickBooks Data.
Test Connect to QuickBooks.
Now select the Message tab.

Detail Tracing
Display Optimizer Status Panel
Choose Display Driver Status Panel to check what ODBC is exactly working on.
Click on Apply.
Go to Optimizer tab

Use the Optimizer box
The Start every Query
Hit Ok to exit the ODBC Driver setup.
Also Read: QuickBooks Database Server Manager – Installation and Usage Guide 
Different QODBC Setup Options
The first step is to click on the QODBC Setup Screen and you will see a following general setup screen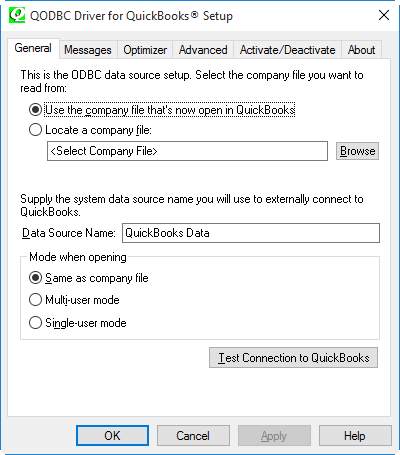 Use the company file that's now open in QuickBooks enables QODBC to use the company file and switch between files without creating separate DSN's for every company file.
Locate a company file: It is the path contains your QuickBooks data files.
Data Source Name: A display name for QuickBooks Data.
Mode, when opening comprises different ways to open a QuickBooks file and this setting, helps you determine how QODBC should open every company file.
For example: selecting "multi-user mode" will allow multiple users to update the file simultaneously.
Test Connection to QuickBooks will decide whether you have a proper installation and QB settings.
The messages enable you to review message logs from QODBC. It can be messages can be related to communication issues with QuickBooks, clear these messages and check messages created by QuickBooks qbXML SDK interface.
Detail Tracing makes a trace log of QODBC background work with the application. Ensure that the log is switched off when not required as they use a large amount of disk space.
Display Optimizer Status Panel will showcase the progress of data optimization and this is very helpful for large data files being reloaded.
Display Driver Status Panel displays the work of QODBC while accessing QuickBooks data and assess the speed using optimized and non-optimized data.
This article described QuickBooks Enterprise ODBC, installation, configuration, and various setup options. For more information on this topic, talk to our certified experts.