While using QuickBooks, a user may face some technical issues. QuickBooks Error 1712 arises when your Operating System is damaged or due to some system file corruption of Windows or corrupt and damaged Microsoft components used by QuickBooks.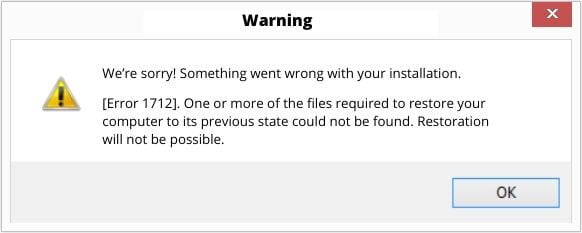 This article gives detailed knowledge about the various aspects of the error and provides effective solutions to resolve QuickBooks Error 1712.
Causes of QuickBooks Error 1712
QuickBooks Error 1712 arises if the user tries to install QuickBooks in an encrypted or corrupted folder. Overlapping installation of the latest QuickBooks without uninstalling the older version also leads to the error.
Another major cause of QuickBooks Error 1712 is registry error or corruption. An attack by malware or a malicious program that affect system files related to the software may also result in the error. The error may even occur after installation or uninstallation of any program which requires a reboot after the process.
This error affects the device performance and sometimes even freezes the device. PC or laptop behaves sluggishly and the working of QuickBooks also get hampered. Shutdown problem in the computer or input/output error is also another symptom of QuickBooks Install Error 1712. Sometimes, a blue screen on display is shown because of the error.
Solutions to fix QuickBooks Error 1712
"QuickBooks Error Code 1712" message disables the work in QuickBooks, hence it is important to fix it immediately. To avoid further data loss and reduce the downtime of your work, it is advisable to fix the error as soon as possible. You need to follow the underneath steps for rectifying the error code successfully.
Solution 1: You need to End these processes in the Task manager
Firstly, on your keyboard press Ctrl+ Alt+ Delete.
After this, right-click on QuickBooks and click on Go to Processes.
Now, you need to click on the End Process button and close all the processes in the Task Manager.
Lastly, reboot your device and check that processes are deleted successfully.
Also Read: How to Resolve QuickBooks Error 6143?  
Solution 2: Use QuickBooks Install Diagnostic Tool
Go to the official website of Intuit.
From there, download the QuickBooks Install Diagnostic Tool.
Install the tool on your device.
After this, you need to close all the system applications and the background application to run the QuickBooks diagnostic tool.
Now open the QuickBooks Diagnostic Tool.
After this, find the option labeled as "I am having problems installing QuickBooks".
Select the OK tab.
Restart your PC or laptop to ensure that changes are made correctly.
Get our expert Quickbooks ProAdvisor on call to resolve your query in no-time.
Solution 3: Download and install QuickBooks Desktop
Firstly, go to the download page: https://downloads.quickbooks.com/app/qbdt/products
Now select the option of Change.
After this, click on the product edition.
In the version column, choose your desired version.
After this, click on the download button.
Solution 4: You need to modify the application data path inside the Registry
Firstly, click Start on your Windows and search for "regedit.exe".
Now search the below path in Regedit.
HKEY_CURRENT_USERSoftwareMicrosoftWindowsCurrentVersionExplorerUser Shell Folders.
Now double-click on the entry App Data.
After this, replace the original value with your own local profile path.
Restart your device and check for errors.
If you have followed the above steps orderly and still QuickBooks Error 1712 is not resolved, then you may contact on QuickBooks Error Support Phone Number to get technical assistance from Pro-advisors.
You can also contact QuickBooks Technical expert and ask for their help. They can guide you well in your doubts and queries. You can also take advice from business owners by visiting QuickBooks Community.