QuickBooks highly simplifies the accounting tasks for the small and medium-sized enterprises. QuickBooks comes in different versions to satisfy diverse needs of businesses. While working with QuickBooks, you may face different errors at different times. One such error that you may come across is QuickBooks error 1723.

As a QuickBooks user, you may encounter Error 1723 QuickBooks when you are installing or uninstalling QuickBooks Desktop software.
What Causes QuickBooks Error 1723?
QuickBooks error 1723 comes with a message that states there is a problem with the Windows installer package. A damaged Windows installer can cause this error.
How to Resolve QuickBooks Error 1723?
Solutions are available to fix 'Error 1723 QuickBooks'. If after applying all the solutions, you are still getting QuickBooks error 1723, you have to get repaired the damaged Microsoft component. Apply the following solutions in the order given below to troubleshoot error 1723. Before proceeding with the solutions given below, ensure that you have made a backup of your QuickBooks data.
Solution 1: Change the permissions of the Windows temp folder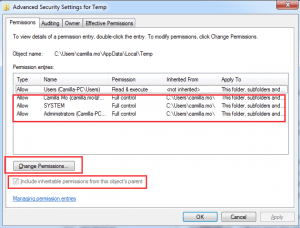 You have to follow the steps given below to edit the permissions of the Windows temp folder:

First of all, press the Windows key.
This will launch the search field.
Now, in the search field, type %temp%.
Hit the Enter button.
Windows temp folder will open on the screen.
If in case, you are using one of the following operating systems – Microsoft Windows 10, 8.1 and 8, then go to the Home menu in the menu bar of the Windows temp folder and choose Properties.
If in case, you are using Microsoft Windows 7 operating system, then navigate to Organize drop-down and look for Properties.
Once the Properties window has opened, look for the Security tab.
After clicking the Security tab, click on Edit.
Look for your Windows username and highlight it.
Now, you have to put a check mark against Full Control in the Allow column.
Click on the OK button twice.
Finally, reinstall your QuickBooks Desktop.
Now, check whether you are getting QuickBooks error code 1723. If yes, proceed to next solution.
Solution 2 :Use QuickBooks Install Diagnostic Tool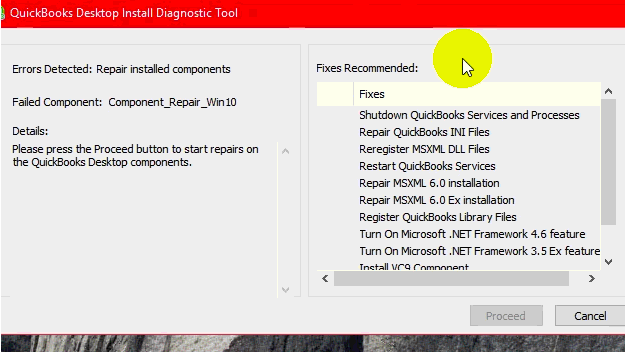 QuickBooks Install Diagnostic Tool (QBInstall) has been developed by Intuit to troubleshoot common QuickBooks Desktop installation errors. It is a great tool as it does its work automatically, i.e., it automatically identifies QB installation issues and then fixes them. QuickBooks Install Diagnostic Tool helps in fixing Microsoft.NET, MSXML, and C++ issues.
After running QBInstall, it may be required on your part to again register or activate QB Desktop.
Get our expert Quickbooks ProAdvisor on call to resolve your query in no-time.
Follow the steps given below to run QBInstall tool:
First of all, from the Intuit website, you have to download QuickBooks Install Diagnostic Tool (QBInstall).
Save the QBInstall file, which is an .exe file, on your desktop.
If there are any opened programs, close them.
Now, run the downloaded .exe file. Depending on your internet speed and your PC's performance, this tool may take up to twenty minutes to complete.
After QBInstall tool has completed its work, restart your PC. Rebooting your system will ensure that the components have been updated properly.
Now, check whether you are getting error 1723.
The solutions given above should fix QuickBooks error 1723. But, if you face any problem applying any of these solutions, or if the error does not get fixed, you can call us at our QuickBooks Error Helpline Number to get expert technical assistance.