QuickBooks PDF Converter is a built-in feature that converts your QuickBooks reports and forms into Adobe Portable Document Format files. Moreover, the conversion process is done through QuickBooks' print component. It simplifies your work and you can share files with associates who do not use QuickBooks or don't have QuickBooks in their system.
Email and Sharing
Once the report or form is changed into a PDF file, you can email it to the associates and clients. You can share with other individuals by uploading the file to a web server, Intranet or computer network. The PDF file can be opened using the following readers: Adobe Reader, Foxit Reader, PDF-XChange Viewer or Perfect PDF Reader.
Reports and Forms
QuickBooks PDF Converter is capable of converting QB reports like balance sheet, reconciliation statement, expenses and forms like company invoices and statements. The tool only works for QuickBooks and will not support any other application.
QuickBooks PDF Converter Missing
You might face PDF converter issues in different forms like PDF Converter shows offline, unable to save as .pdf file, and missing pdf file component, etc. It is usual to get worries when pdf converter goes missing suddenly, it can affect your work accompanies by other issues. However, there are various solutions to resolve this problem.
Troubleshooting Methods for QuickBooks PDF Converter
There are different methods to resolve the issue which are listed below: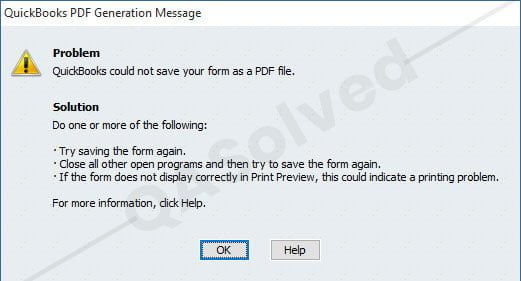 Note: Make sure that QuickBooks is updated to the latest release.
Method 1: QuickBooks Print and PDF Repair Tool
You need to visit the official Intuit site and download QuickBooks Print and PDF Repair Tool. The process is very simple, download and install it. Once the installation is done, you can use a PDF converter to check whether the issue is resolved or not.
Method 2: Alternative for Windows Users
Firstly, check whether the XPS Document is working without any interruption.
If you find any issue, reinstall the Microsoft XPS Document Writer.
The error can also occur due to incorrect security settings.
Go to the antivirus installed on your PC and edit the settings.
Get our expert Quickbooks ProAdvisor on call to resolve your query in no-time.
Method 3: Reinstall QuickBooks PDF Converter
Firstly, you have to delete and reinstall QuickBooks PDF Converter

Next, log in to Windows as an Administrator and open Printers and Faxes.
Then, search QuickBooks PDF Converter >> Right-click >> Delete.
Select Delete and press
Download PDF Converter by following the steps mentioned below:

First of all, right-click on QuickBooks option and select Properties.
Next, you need to select Find Target, Windows Explorer will open.
After that, double-click on "Install Application" or "exe"
Click on Ok once the installation is done.
Now, go to Windows Start option and select Run.
Type Control Printers in the Open field.
Hit Ok to open Printers and Faxes.
Now, right-click on Amyuni Document Converter and select Rename.
Finally, enter the correct name according to the QuickBooks version installed in your PC and select Enter.

QuickBooks 2006-2009 R8: QuickBooks PDF Converter
QB 2009 R9 and later: PDF Converter 3.0
QuickBooks 2010 R1 and R2: PDF Converter 2.0 QuickBooks

In this blog, we discussed QuickBooks PDF Converter Tool, issues and different methods to fix it. If you face any error in the future, our certified experts will guide you and provide reliable solutions. Call us on our QuickBooks Tech Support Number.
Feel free to visit our QuickBooks Community. You should be able to find all the answers to your questions there. If you do not, then please post the question there, and we'll make sure it's answered within 2-3 days.