Amidst the amazing features in QuickBooks Desktop, emailing directly from within QuickBooks save a lot of time and effort doing things. I will very quickly share "how to setup email in QuickBooks" to a narrative of one of my friends have a small business and they use QuickBooks for accounting for years and surprisingly they didn't know, about QuickBooks email setup.
We had been going to see the local basketball game for many years after work and I never liked getting late for it because of my friend, telling me to wait as he got a handful of Invoices to be emailed to the customers.  One evening, I thought to reach out to his home-office without telling him to check his business volume that he tells me about every evening that makes us late.
Then, I found him making the invoices first, then print them, then scan them and finally send as an email attachment to their customers and they were never more than 10 a day. Explained to him about inherent emailing features of QuickBooks Desktop and configured that too. I was rewarded with a pitcher full draught beer that evening and we never got late for anything pleasurable to us ever. Next morning, I sat to scribble to help others using QuickBooks Desktop to take benefit of the "QuickBooks email setup" too. Take a Look.
Benefits of QuickBooks Email Setup:
Ease of directly emailing Invoices, Estimates to your customers.
Send Payment Reminders to your customers via emails.
The details are automatically fetched from the customers and vendors.
You can import data from spreadsheets and add more attachments up to 2 MB's.
QuickBooks Emailing can also be used for sharing reports within offices or departments.     
Requirements for QuickBooks Email Setup
An email address from any of the service provider.
Email username and password.
Incoming and Outgoing email settings (varies as per the email service provider)
Details of the server type.
Methods to Setup Emailing Services in QuickBooks:
There are numerous ways for setting up email in QuickBooks regardless of the version that you have. You can use any of your existing email that you use for your business communication or you can use a new one. Almost every email service is support for emailing from QuickBooks. The most common are listed below:
QuickBooks Email Service.
Microsoft Outlook.
Web Email (Gmail, Yahoo, Hotmail, Outlook.com etc.)
Others (AT&T, Verizon, AOL etc.)
Option 1: How to Setup Email service in QuickBooks?
Select QuickBooks Email Settings while setting up the email in QuickBooks.
QuickBooks Email option can only be used by the users having any of the active Intuit services like QuickBooks Payroll, IMS  ( Intuit Merchant Services ), QuickBooks Enterprise Full Service Plan, QuickBooks Billing Solutions or Accountant's Copy File Transfer (You can follow the onscreen setup wizard instructions)
Fill in the required fields requesting email address, username, password and the applicable incoming. And outgoing email settings and server details and you have done for emailing.  

As QuickBooks doesn't save a copy of the emails that you send. It recommended to enter any of your email address for tracking purposes.
Option 2: Setup "QuickBooks Email via Outlook"?
Your outlook profile can easily link to QuickBooks Desktop in order to send Invoices, Estimates, Reports to your vendors and clients and they go as PDF attachment with the email. You can set it up following simple steps underneath.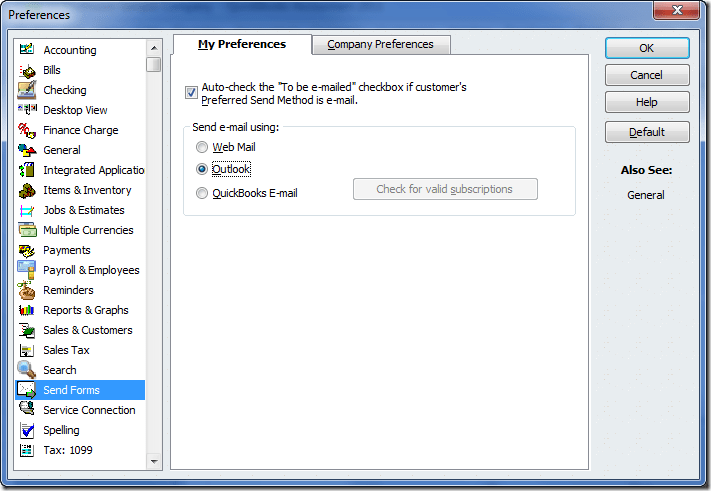 Configure the Outlook with the email address that you wish to use for emailing from QuickBooks is it is not.
Open you QuickBooks and open the Edit menu from the menu bar on the top.
Select Preferences and then Send Forms.
Go to My Preferences and select the Outlook Radio out of the three options that you see and click
Close the Preferences Window and try emailing something to yourself from QuickBooks for testing purposes.   
Get our expert Quickbooks ProAdvisor on call to resolve your query in no-time.
Option 3: Setup "QuickBooks Emailing via Webmail" option
If you have emailing hosting service from Gmail or Yahoo or you have a mail account with them. You can link it for sending email from QuickBooks with easy steps. Which are almost similar but a bit different in terms of SSL Security, SMTP Server and Port Configuration that may differ as per the email service providers.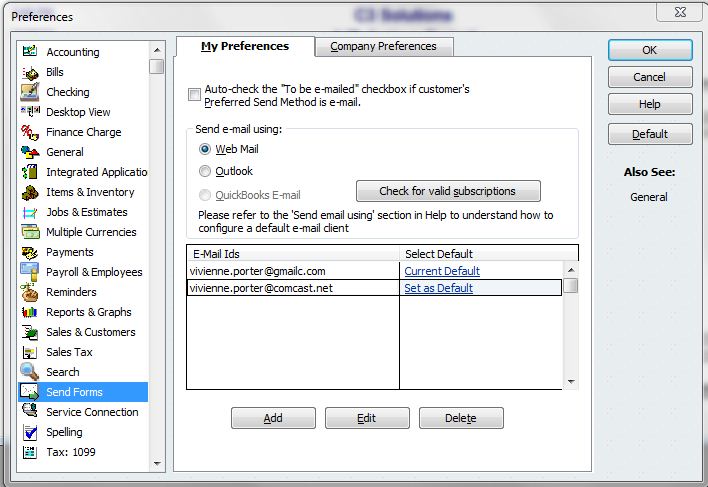 Open the Edit menu and select
Select Send Forms from the left pane.
Select My Preferences Tab and select the Webmail Radio out of the options that you see.
Enter the email address that you wish to use for QuickBooks Emailing choose the
SSL Security checkbox should be select as information from your service provider.
Put the correct SMTP Server and Port Configuration and Click OK and try sending the email to yourself and check if you receive it fine.
I hope you won't miss or get late for anything pleasurable to you and you are able to "send the emails from QuickBooks" now. For more clarification or "QuickBooks email setup" contact our QuickBooks Support (Toll-Free) for instant support.
If You ever feel the need of taking advice from your fellow business owners that happened to be our existing subscribers, you can visit our thriving QuickBooks Community.