Xero vs QuickBooks – A Complete Comparison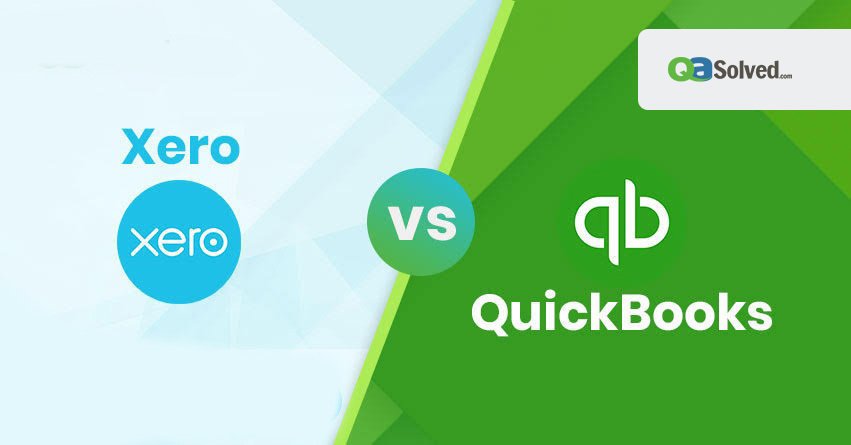 Xero and QuickBooks are two capable cloud accounting software. With both of them being equally efficient and functional it becomes slightly difficult to choose between Xero vs QuickBooks. As they provide nearly equal set of features, this blog will give you a better clarity on which one is better, and suits your business' needs. Firstly, let us begin with what the two software comprise of.
Xero is known as a cloud-based accounting software platform that was found in the year 2006 by Rod Drury. It has multiple offices, like three in New Zealand and the UK, six in Australia and the United States. As well as in Hong Kong, Singapore, Canada, and South Africa. The accounting software is a perfect option for startups and small business owners. It is a good option for individuals who have limited knowledge of accounting but who want to manage their finances in a proper manner.
QuickBooks is an accounting software particularly planned for small and medium-sized businesses. It was found in the year in 1983 by Scott Cook and Tom Proulx. Along with this, it offers on-premises accounting applications and cloud-based versions to its users. In addition, the software receives business payments, pays/manages bills, and payroll functions. It has the ability to add a bank account number or credit card to a customer's account.
Now, the main thing that matters is which software i.e.  Xero vs QuickBooks goes well with your business type.  Let's explore this more and move ahead by discussing the distinctions between QuickBooks vs Xero.
Distinction between Xero vs QuickBooks
Here the distinction is done on the basis of the comparison between their feature sets, pricing, managing reports, ease of use, accountant's choice of tools, and user reviews.

Pricing
Xero Pricing
Xero's early plan comes at $9 per month in which you can send 5 invoices and quotes. This plan allows you to reconcile 20 bank transactions and enter 5 bills. Furthermore, the growing plan costs $30 per month through which you can send quotes and invoices to the customers. You can easily add bills and reconcile bank transactions under this particular plan. Apart from this, established plan of $60 per month allows you to send quotes and invoices, enter bills, and reconcile bank transactions, without any hassle.
QuickBooks Pricing
QuickBooks Simple Start plan comes at $8/month, which covers the features like tracking income & expenses, sending estimates to the customers, tracking sales & sales tax, manage 1099 contractors. Besides, the Essentials plan cost $ 12/month and permits to manage 1099 contractors. It maximizes tax deductions, creates invoice & accept payments. Apart from this, Plus plan includes 5 users. The feature you to track project profitability, track inventory and much more. The Advanced plan comes at $45/ month which gives custom user permissions, accelerated invoicing kind of feature to its users. Moreover, Self- Employed range is $4/month, under this plan you can create basics report, estimate quarterly taxes, capture & organize receipts.
QuickBooks Online and Xero provide very similar features. In some areas, like project management, managing invoicing, QuickBooks Online is far better than Xero. Besides, like contact management feature, Xero offers better features. Moreover, online provides a much better invoicing feature with several templates. Whereas, Xero contains one invoice template and you need to download and import a packing slip template into the software. Both the software are web-based accounting software platforms that are known for their excellent feature sets and flexibility.
When it comes to set up, QuickBooks provides a few options to import Excel sheets, and Xero permits you to import just anything via Excel templates. Moreover, you can easily download them from Xero and can get your required data. Further, Xero and QuickBooks both need improvement when it comes to customer support.
You can view up to 1099 reporting in Xero Growing, online Plus, and Xero Premium plans. The particular feature helps you to track payments that are made to the contractors. In fact, you have the opportunity to send 1099 forms through snail mail or email.
As compared to QuickBooks Online, Xero does not have forecasting and budgeting features in any of their pricing plans list. Besides, in online, this feature is just accessible in the top tier plan. The feature enables you to create expense budgets and create income. You can also generate income and expense budgets online as well as formulate a budget for a particular customer or job.
Accounting Software Integration
QuickBooks Online can integrate with more than 600 apps. QuickBooks has its credit card processing service that integrates impeccably in the online version. On the other hand, Xero can integrate with over 700 apps. And, Xero doesn't comprise its payroll service and credit card processing. Further, QuickBooks and Xero both give you good number of integrations in the marketplaces.
QuickBooks Online users can access 80 reports in just a few clicks. It can be categorized via. Sales, Summary, Products, Income tax, and Stock. It comes with quite an impressive customization feature. You have got the option to comprise memo notes from invoices, add details of the products and change columns via. customizing. Alternatively, reporting is not a highly-developed function in Xero. The primary reports can be easily found and the possibilities to customize them are essentially minimal. Xero is focusing to improve on this part.
Xero and QuickBooks Online permits you to keep track of the products that you are selling. But, the particular feature is only present in online Plus, Xero Premier Editions, and Xero Growing. Besides, Inventory tracking feature is not accessible in the Starter plans. The tracking feature covers creating purchase orders, updating costs and quantities of goods, and also tracking the cost of goods sold.
In Conclusion
Hopefully, the hunt for the perfect accounting software your business has finished. The definition and the comparison points of QuickBooks online vs Xero, hopefully, have helped you in discovering the suitable software for your business purposes.  Both the accounting software are recognized to save your money and time. At last, it depends on your choice to choose the right software according to your business type. Overall, Xero vs QuickBooks permits to convert hard copy books and excel spreadsheets into easy-to-read data.
Still, if you want to collect the more information on Xero vs QuickBooks, you can dial our support phone number.
Frequently Asked Questions
Ques- What are the advantages of using QuickBooks software?
Ans- These are the benefits of using QuickBooks software:
It helps in generating many financial reports.
QuickBooks keeps track of sales and then generates receipts and invoices.
Filing taxes and monitoring income is quite easy with the software.
You can access your financial information anytime from anywhere.
Your financial data will be completely secure with the software.
Ques- What are the benefits of using Xero software?
Ans- Here are some of the advantages of using Xero software:
You can see a clear picture of your business finance.
The software connects directly to your bank so that you can save your time on data entry.
Xero will permit you to create an invoice without any hassle.
The software is accessible from any device with a good internet connection.
You can access your financial work from your smartphone.
Ques- Which accounting software is commonly used to handle accounting operations?
Ans- These are the software that are used to handle accounting needs:
Xero
QuickBooks
FreshBooks
Wave
Sage 50
Ques- Can I use Xero to manage personal finances?
Ans- Yes, Xero cashbooks can be used to handle personal finances. Xero cashbook is a simplified version of Xero software. Xero cashbooks provides the option of bank feed, sending and receiving money from customers. Along with this, it doesn't include inventory or payroll, or the ability to generate invoices or bills.
Ques- Which is the perfect accounting software for small businesses?
Ans- QuickBooks Online is a popular software. The software is easy to use as it provides the features like tracking income and expenses, generating reports, keeping track of daily transactions, and preparing bills.
Ques- Is Xero software difficult to learn?
Ans- Indeed, the software is well-organized but it is slightly difficult to learn. Initially, it will take some time to understand all the features of the software. After understanding the software you will be able to use it for your accounting tasks.
Ques- How should I use QuickBooks software for personal accounting?
Ans- The steps will help you with the right way to use QuickBooks for personal accounting:
In the beginning, you need to purchase QuickBooks software from the QuickBooks website.
Now, install the software on your personal computer.
Then, you have to set up your expenses via vendor by clicking the "new vendor" option.
Finally, update the program with your expenses.
Ques- Can I migrate data from Xero to QuickBooks?
Ans- No, you cannot migrate your data directly from Xero to QuickBooks Online. You can only import the data by the list which needs to be exported from Xero. After that, you can import it to QuickBooks manually.
Ques- Which accounting software can handle your business tasks easily?
Ans- These are the accounting software that helps in managing the accounting operations:
QuickBooks Online
Xero
Sage 50
Kashoo
SlickPie
Ques- Do I need accountant assistance to use QuickBooks software?
Ans- QuickBooks helps you in storing and analyzing the financial data of your business. You will be needing a human accountant to provide financial advices. The accountant will inform you about the latest changes in tax legislation on-time.
Summary
Article Name
Xero vs QuickBooks - A Complete Comparison | QASolved
Description
Decide which software is accurate for your business between Xero vs QuickBooks. Go through the blog to choose suitable software for business purposes.
Author
Publisher Name
Publisher Logo