What is QuickBooks Live Bookkeeping?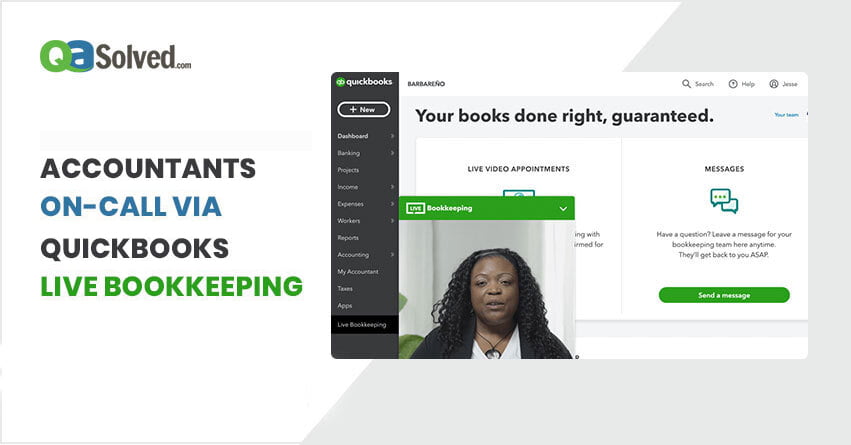 [vc_row][vc_column][vc_column_text]
As per the latest news, Intuit has recently introduced the QuickBooks Live Bookkeeping service for QuickBooks users. The service helps you to connect with live QuickBooks-certified Bookkeepers. Bookkeeping service is a monthly subscription service for small-business.
Role of QuickBooks Live
The experienced live Bookkeepers ensures that the records of Bookkeeping are up-to-date and accurate. Also, the service gives confidence to its users that their books are working in the right manner and they can focus on their other tasks related to business. It provides confidence to small businesses by allowing them to focus on different aspects of the business.
Reliable Bookkeeping Services for Small Businesses
The service will help you out in handling only Bookkeeping and it won't assist you in payroll support. In addition, if you are a QuickBooks user or owner of your startup business, then the service will be beneficial to you in handling Bookkeeping.
Assistance
Small businesses get on-demand assistance from the dedicated and skilled team of Bookkeeping. Moreover, the owners can get a quick solution via chat assistance with a screen share option and video option. The service provides a full year-end report in the correct format.
Benefits of QuickBooks Live Bookkeeping
You can set up and make your appointment with the Bookkeepers.
The online Bookkeepers will help you to categorize your transactions, reconcile your accounts, and closes the books every month.
The experts check the records and correct the errors in it.
Provide personalized reports for a better understanding of the business.
How to Contact Bookkeepers?
You have to go to the Live Bookkeeping menu then choose to schedule my appointment option.
Then, fill the necessary information and choose an appointment time. When you are done with filling of information, you will see a confirmation of the appointment on the screen.
If you want to leave a message to your Bookkeeping team, then go to the Live Bookkeeping menu and select send a message option. After this, you will see a chatbox on your system screen and then you can start the conversation with the professional.
FAQ
[/vc_column_text][/vc_column][/vc_row][vc_row][vc_column][vc_toggle title="Q.1- What QuickBooks Live Bookkeeping service contains?"]Ans- The service maintains, reconciles, updates, fixes and categorizes transactions in your books throughout the month. At the end of each month, the bookkeepers will reexamine books and later on give reports on a phone call or video chat.[/vc_toggle][vc_toggle title="Q.2- What Live Bookkeeping service doesn't offer?"]Ans- The service doesn't offer payroll setup or support. The expert team only maintains your Bookkeeping. The team prepares books for tax season but not handle taxes.[/vc_toggle][/vc_column][/vc_row][vc_row][vc_column][vc_toggle title="Q.3- How to contact Bookkeepers?"]Ans-Initially, choose QuickBooks Live Bookkeeping and after selecting you will be connected with the certified team members in the U.S. You can get in touch with them by one-way video chat option.[/vc_toggle][/vc_column][/vc_row][vc_row][vc_column][vc_toggle title="Q.4- What Qualifications do Bookkeepers Have?"]Ans-The Bookkeepers are experienced in the field of finance, accounting, and Bookkeeping. The team is made up of Certified QuickBooks ProAdvisors and among these, some of them are CPAs. All of them have worked in small businesses.[/vc_toggle][/vc_column][/vc_row][vc_row][vc_column][vc_toggle title="Q.5- How Frequently Can I Connect With Bookkeepers?"]Ans- A video chat can be scheduled with Bookkeepers. You can leave a message when you want to ask a question.[/vc_toggle][/vc_column][/vc_row][vc_row][vc_column][vc_toggle title="Q.6- What Business Info Does Bookkeeper Expert have Access To?"]Ans-They can access only your QuickBooks files, comprising the data you have uploaded into the QB account.[/vc_toggle][/vc_column][/vc_row][vc_row][vc_column][vc_toggle title="Q.7- Do I need to wait for long hours to get a reply from a Bookkeeper?"]Ans-The Bookkeeper expert is available for the chat during the working hours. You can access the bookkeeper's calendar and choose an appointment as per your requirement.[/vc_toggle][/vc_column][/vc_row][vc_row][vc_column][vc_toggle title="Q.8- When can I contact Bookkeepers?"]Ans- You can contact them during the business hours. Its users can leave a message in the chat box or email them anytime.[/vc_toggle][/vc_column][/vc_row][vc_row][vc_column][vc_toggle title="Q.9- Is there a requirement to download QuickBooks software?"]Ans-You can easily sign in to QB from the web browser. Apart from this, download the Windows app or Mac to run Essentials, Simple Start, or Plus.[/vc_toggle][/vc_column][/vc_row][vc_row][vc_column][vc_toggle title="Q.10- Do I have to pay additional money for Intuit mobile apps?"]Ans-No, you don't have to pay extra for Intuit mobile apps.[/vc_toggle][/vc_column][/vc_row]