If everything worked fine till yesterday and today you have problems printing from QuickBooks with QuickBooks Error Code 20 on screen. Nothing prints from QuickBooks "Printer not activated". QuickBooks Printer not activated Error Code 20 is the result of Upgrade to Windows 10, Or you are trying to print from QuickBooks 2009 installed on a Windows 10 Computer. QB 2009 is an outdated version that has problems printing from Windows 10, caused by compatibility issues. QuickBooks 2009 stopped getting automatic updates as its official support Ended in May 2012. QuickBooks 2009 was engineered to run on Windows 7, the latest of those times and technically your data is also 10 years behind the current QB Desktop version.
Windows 10 updates twice a month and your QuickBooks 2009 doesn't and roots compatibility issues in a form of the QuickBooks Error Code 20. Don't be even surprised, if your QuickBooks Company File stopped working.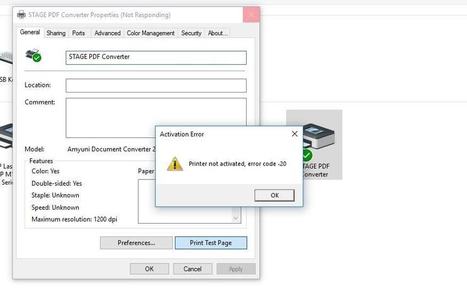 Alternatively, you can apply the interim solution to fix QuickBooks Printer not activated Error Code 20, before you make a decision to upgrade QuickBooks to latest version.
What Causes QuickBooks Error Code 20?
Non-updated QuickBooks 2009.
Application key is not updated.
Unsupported printer drivers either way.
QuickBooks Windows Registry Issues.
You May Also Read: How to resolve problems with printing in QuickBooks? 
How to fix QuickBooks Printer not activated Error Code 20?
STEP-1: Registry Backup and Restore Point
Backup Windows Registry.
Open the registry editor to add manual changes into it.
Open file menu and export the registry and save it.
Create a restore point to revoke the changes made in the Registry if required.
Wait till the time system restore point creation process ends and click OK when finished.
 STEP-2: Configure User Permissions
Hit Window and type regedit in the search bar OK.
Right-Click on regedit and select Run as Administrator.
Double-click HKEY_CURRENT_CONFIG folder in the left Pan.
Right-click on the Software folder in the pan and selection Permissions… option from the menu.
On the new window pops up, assign "Full Control" to the "Users" if it is not enabled and click OK.
STEP-3: Configure Print Spooler Service
Press Windows + R at the same time and type MSC in the Run Box that appears.
Right-Click on the Print Spooler Service from the services list and select "Properties".
Stop the Print Spooler Service.
From Startup Type dropdown, select Automatic
Now Click Start the service again.
Try to print something or Save a PDF, this should resolve "QuickBooks Printer not activated Error Code 20"
STEP-4: Repair QuickBooks PDF component QBprint.qbp file   
Open your Windows Control Panel and go to Programs and Features
Select QuickBooks from the list of the installed program.
And Click Change and start the repair process and follow the instruction till the end.
Restart the computer after the QuickBooks Repair process finishes.
Try to print something or Save a PDF, this should resolve QuickBooks Error Code 20
STEP-5: Updating Windows and Reinstall QuickBooks from the Scratch
Open your Windows Control Panel and go to Programs and Features
Note down your QuickBooks License and Product Number before you uninstall QuickBooks
Select QuickBooks from the list of installed program and select Uninstall from the top.
Follow the wizard instructions till QuickBooks Uninstall
Download and install the Windows Updates and restart the computer.
Insert the installation CD or open the QuickBooks Installation folder to start the setup.
Follow the installation instructions to install QuickBooks.
Since QuickBooks Reinstallation does resolve a lot of QuickBooks Errors, you should be able to print now.
Get our expert Quickbooks ProAdvisor on call to resolve your query in no-time.
STEP-6: Troubleshooting the Microsoft Document Writer – Windows Component
Microsoft Document Writer is a preinstalled Windows component that helps print to file. It enables Windows to help QuickBooks application to save information in PDF. If this component is missing or damaged, you get in trouble printing from QuickBooks on Windows 10 and Encounter QuickBooks Printer not activated Error Code 20 as an outcome.

Right-click on QuickBooks Icon on your desktop and select Open File Location option from the menu.
Go to Temp folder and look for the folder that represents the version of your QuickBooks.
Open the Third Party Folder and then
Locate and double-click exe file and let the installation complete.
Open QuickBooks once to register the license.
In case of issues installing ABS PDF driver or it stops responding, try installing again.
Once the installation completes try printing again to verify QuickBooks Error Code 20 if fixed.
Hopefully, the resolution steps helped you fix QuickBooks Printer not activated Error Code 20 following one of the 6 steps or all of them suggested. If the errors still continue then you can also call at our QuickBooks Customer Help Desk Number if you get stuck anywhere during this process, They will be able to guide you better with the solutions.