QuickBooks plays a very ancillary role when it comes to tracking your income and expenses. However, there are times when you might need to go beyond the standard account-based tracking performance. This is where QuickBooks class tracking in comes into play. QuickBooks online class tracking is a user-friendly method for setting up class tracking which enables you to attain greater control over expense categorization in a very time-effective manner.
What is QuickBooks Class tracking?
The feature of class tracking in QuickBooks online provides you with a customizable way to track specific expenses, handle the accounting for one-off scenarios, manage occasional expenses and categorize shared expenses across multiple accounts and that isn't necessarily associated with a particular account type. You can create classes for certain transactions that you feel the need to group exclusively. Doing so enables you to track account balances by the business office, location, department, separate properties you own or any other meaningful breakdown of your business. It assists you in managing your business in the most efficient manner.
How do I Turn on Class Tracking in QuickBooks?
To begin with, you will need to navigate to the 'Preferences' section which is located in the 'Edit' menu.

Then, you will have to click on the Accounting icon.

Next, navigate to the Company Preferences.

After the previous step, click to check the Use Class Tracking box.

Now, click on the 'OK' option.

For the next step, you must navigate to the Menu section.

After that, select the lists that are of interest to you.

Click on the 'Class List' option in order to set up categories for your expenses.

Click on the 'New' option to create a new class.

Create a class for your desired expenses

Finally, you will need to fill in the name related to the class to complete the procedure.
Putting Classes to Work
Now, you can fully utilize the classes when it comes to your transactions.
First, you will need to open up a blank invoice and then choose a customer.

The class field will be placed right next to the name of the customer.

If the entire invoice is assigned to the same class, then you will have to click the drop-down list and then select whatever invoice is of interest to you.

Also, you can allocate separate classes to each of the line items individually.
Make a note of the fact that not all invoice templates include a column for classes.
However, you can add the templates by selecting the invoice form that you would like to change and then click on the 'Customize' option located in the toolbar.

After you have performed the previous step, you can add classes under the columns section once the window for customization data layout opens up.
QuickBooks provides its users with two reports that are specifically designed for tracking class-based transactions. These two reports are the Balance Sheet by Class and the Profit & Loss by Class.
Both of the reports can be found in the Reports menu located under the 'Company & Financial' section.

Furthermore, you can filter other reports in order to incorporate a class column.

You can also create a QuickReport for individual classes.

In order to do so, you must navigate to the 'Lists' sections, then the 'Class List' section and then select a graph or report.
Creating types
The process of creating types is almost identical to creating classes. The steps to creating types are as follows:
Navigate to the Lists section and then the Customer & Vendor Profile Lists, and select the 'type' that you want.

You will have to follow the same instructions here as you did when you created classes.

Moreover, 'types' do not appear on any of the transactions. They have been exclusively created for your own personal usage and they are saved in your documents.
Doing so will make your class tracking procedure much more streamlined!
Conclusion
Class tracking in QuickBooks helps you group your transactions in a smart manner and according to the departments in which the transactions belong.
We hope that this article provided you with the information that you were looking for regarding QuickBooks class tracking. If you have any further queries regarding the blog, feel free to contact our ProAdvisors at QuickBooks Online Support Number +1-888-899-5690 for instant resolution.
Summary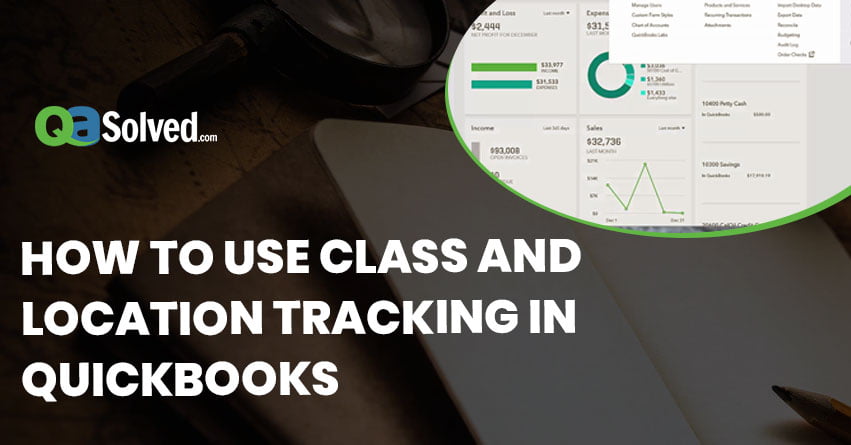 Article Name
How to use QuickBooks Class Tracking? - QASolved
Description
QuickBooks class tracking is a user-friendly feature that enables you to attain greater control over the expense categorization in an efficient manner.
Author
Publisher Name
Publisher Logo