How to Print 1099 in QuickBooks? – A Complete Guide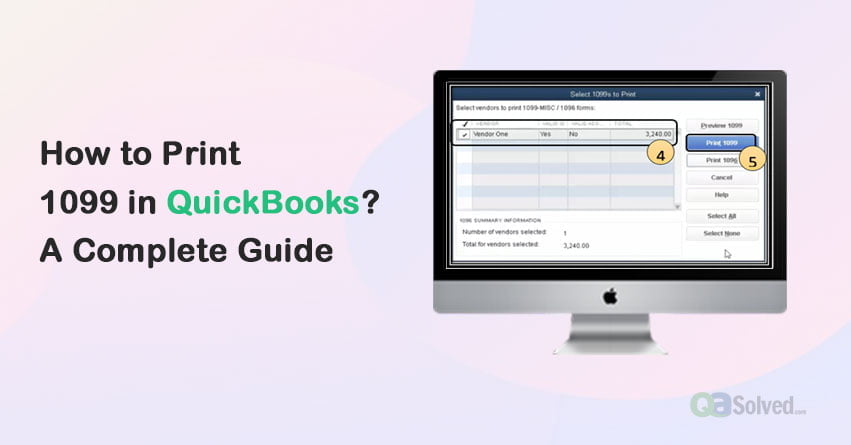 In the process of tax preparation, you have to prepare a few tax forms. Using QuickBooks, you can do that as well. Here we are going to discuss how to print 1099 in QuickBooks. Before discussing the process of printing Form 1099 in QuickBooks Online, we will also get an understanding of what form 1099 is and different types of this form. The IRS Form 1099 is also known as an information return. It is used to report payments you have made to the IRS. You need to issue this form to the vendors who meet a certain criteria. By providing this form you are informing them that you reported the payments you made to them to the IRS.
Types of Form 1099:
There are so many different types of Form 1099s. But when you run a small business, you only have to deal with 1099-MISC and 1099-NEC. Form 1099-MISC is used to report rents, royalties and other, less-common types of payments you make during a financial year. Form 1099-NEC is used to report nonemployee compensation.
How to Print IRS Form 1099?
For Form 1099s, you have to use red ink for Copy A. You can either order this ink from the IRS or purchase it from a tax supply vendor. You can use plain white paper to print all other parts. Also, you always have to use perforated paper for the copies you will be sending to the employees.
To print the IRS form 1099 in Quickbooks you have to follow these steps:
Navigate to 'Vendors' and select 'Print/E-file 1099s'.
Click on '1099 Wizard' and then click on 'Get Started'.
Now you have to tick the box next to all the vendors you want to issue a form 1099 to and then click on 'Continue'.
Map the vendor account payment in box 7 and click on 'Continue'.
In the next step, you have to review payments for any exclusions and click on 'Continue'.
Now check all other information entered by you. Double-click on any amount to review its transaction details and click on 'Continue'.
After this, you have to click on 'Print 1099s' and then click on 'Save & Close'.
Also Read: QuickBooks Pricing Features Plans and Versions

Get Solutions To All Of Your Accounting And Bookkeeping Problems With Industry Leading Experts
To print the IRS form 1099 in Quickbooks Online you have to follow these steps:
Set up QuickBooks Online for 1099s 
Go to the home screen of QuickBooks Online. Here, hover your mouse over the 'Expenses' tab in the left-hand menu and then click on 'Vendors'. On the next screen, click on 'Prepare 1099s'.
Enter Your Company Details
In the next step, you will have to enter the information about your company including company's name and address or tax ID number. If you make any mistakes, click on the pencil icon to edit. Once you have versified that all the information is correct, click on 'Next'.
Select the Type of Payments
Now you have to choose the type of payments you make. You can pick all the options that are applicable. here. Generally, business owners choose 'rents' and 'nonemployee compensation'. To select an option you have to check the box next to it. Once you have selected all the applicable options, you will see another drop-down box. Here, you will have to select the accounts in which you post the payments in QuickBooks Online. You have to select all the applicable accounts (categories). Now click on 'Next'.
Review the Contractor Information
On the next screen you will see a list of vendors that require an IRS form 1099. This list is made on the basis of information you have entered earlier on the Vendor screen for each payee. You can add vendors to the contractors list very easily. For this, click on 'Add from Vendor List' and choose any vendors that need a form 1099. When you are done, click on 'Save'.
Review Your Details
This is the most important step of this process. Here you can find out any possible errors. You have the option to change the tax year if you need to print 1099s for a previous year as well as the type of contractors.
File the 1099 Form
Once you have verified all the entered details, you can proceed to the last step. Here, you have the option to choose the 'Automated E-File and Delivery'. When you pick this option, Intuit manages all 1099 filing and delivery. You can still review all your information and make changes if required. This makes things convenient for you by saving you from the hassle of printing, mailing and filing the 1099s yourself.
Things You Need to Keep in Mind:
To make the process of printing the IRS Form 1099 in QuickBooks Online easier, you have to keep a few things in mind.
Whenever you make any payment to a vendor, make sure to get a W-9 form. This W-9 form should contain a few details of the vendor including their business's name, address and EIN.
Always enter the vendor's information in Quickbooks Online soon after getting the Form W-9 for your payment. as soon as you get it. This will save you from the last moment rush if you miss any information.
Make sure you enter the correct information about your vendors.
You should make a quarterly routine to check for any missing information.
Wrapping Up!
QuickBooks is used by business owners and individuals both to manage their accounting operations like keeping track of cash flow, invoicing, tax preparation etc. You can also print different tax forms using QuickBooks. Here we have discussed how to print 1099 in QuickBooks. If you have any doubts, feel free to contact us. Our team of experts will try to answer all the questions you might have.
FAQs
Summary
Article Name
How to Print 1099 in QuickBooks? - A Complete Guide
Description
Are you looking for an easy guide on how to print 1099 in QuickBooks? Here is a comprehensive one that will walk you through the process.
Author
Publisher Name
Publisher Logo