Looking for a remedy to fix QBPOSSHELL has stopped working Error? Looks like you are on the correct platform.
Every object in this world has a disadvantage in its use, and so does Quickbooks Software.
The software provides enormous accounting services a number of businesses present out there. Yet, it is subjected to some drawbacks as well.
On any software of a computer, it contains an algorithm working according to orders. These orders are present in series. In case, the process fails to put up these orders in command, you face an error. And, this error is visible in the QuickBooks POS system. Hence, one faces QuickBooks Point of Sale Shell Error.
In fact, in cases where a dispute occurs between two pieces of software, the error is too visible. The condition applies to Quickbooks software too. In addition, it also arises if your POS doesn't suit the conditions of your system.
Consequently, one is unable to work in their POS which causes delay to the whole system. The solution is to solve the same problem as soon as possible.
Hence, we are here to provide you with the details regarding solutions for Quickbooks Point of Sale Shell Error. Now, say goodbye to such errors and enjoy working freely.
Read the article carefully and follow the mentioned steps to get rid of QBPOSSHELL error.
What makes QBPOSSHELL Error arise?
Surely there are a number of reasons behind this error. So, let's look at some of them :
The most common reason that results in this POS Shell Error is that Quickbooks software is not able to coordinate with the other software installed on your computer.
Secondly, if the QBPOSSHELL.exe folder gets some destruction.
Similarly, if there is a dispute between the POS Shell file and any other program which relates. Then, the error occurs also.
The database management of QB Point of Sale Shell stops working.
If there are any issues with the Microsoft.net framework that you have installed, it might cause errors in the POS.
Likewise, do not forget the update. In case you have an older version of QB software, you must update it.
Irrespective of why the error has been caused, it is significant that you make changes to recover damages. And thus, solve the error.
Things to re-check before starting with the solutions
You shall not forget that you have to run the QB Point of Sale database manager. To do so :
Go to the home page and press Windows + R.
This will display a screen.
Hence, here, you need to type services.msc.
Once done, tap ok. And proceed further.
Thus, click right at the QB POS database manager and commence it.
Tap restart if you can't start it.
In addition to this process, it is suggested that one should always restart their system. This ensures that the diagnostic process performs without any interruption.
Also Read: How to Troubleshoot QuickBooks POS Error 121?
Get our expert Quickbooks ProAdvisor on call to resolve your query in no-time.
Necessary Remedies to QB POS Shell Error – QBPOSSHELL has stopped working
To ensure the proper resolution of the POS Shell error, we have crafted a number of solutions that you could use to successfully recover your Quickbooks POS software.
#1 Solution: Altering the content present in the shell of QB Point of Sale
You can try making some changes to the information you have inserted in the QB POS Shell. Without much wait let's begin with the process:
You first need the opening of the task manager. Either do that normally, or press Ctrl + Alt + Del.
After that, you will see a processes button on your screen. Tap on it.
Next, click on the QBPOS.exe file.
You will get a screen. Here, you must click the tab to end the processes.
After that, click right at the menu of startup.
Here, run the windows explorer tab.
Likewise, after you select the organize button, you must tap the folder search option.
Thus, in the view option tap of the hidden files. Therefore, select ok and resume the journey.
At left, you'll find a computer tab. Tap it , next go the QBPOS.exe file.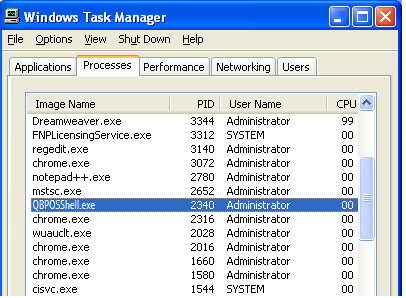 A .config file will be visible. Rename it to .configbet.
Thus, close the window you are using.
Now, proceed by opening the POS again. Everything will be solved.
Also Read: How to Fix Error Initializing QBPOS Application Log?
#2 Solution: Opting for another admin account
You can always choose another admin account in such cases. Hence, you must change your admin account to do so.
If you use Windows 7 :
Go to start.
Search for the control panel. And open it.
Now, tap on the tab of user accounts. Hence, you need to double click on the managed account.
You will soon be provided with a new window.
Here, selecting the option for making a new admin account will be the next step.
Decide a name for the account. In addition, checkmark the same at the administrator tab.
Thus, resume creating an account.
After everything completes, you need to shut down your system and reboot it.
Hence, sign in and resume working at the POS system.
If you use Windows 8, 8.1 and 10
First of all, look out for the control panel.
Once you have found it, you must click on the user accounts. Then, select the option displaying family safety.
Thus, tap on the user accounts.
Find the manage account option and select it.
You'll get a new window.
Here, you will be displayed an option for creating a new account. Thus, choose it.
You need to sign in. Yet, make sure not to do it with the aid of a Microsoft account.
Thus, visit the local account.
Enter username and password.
Tap next and hit finish once it completes.
After everything completes, you need to shut down your system and reboot it.
Hence, sign in and resume working at the POS system.
#3 Solution: Rebooting the QB Point of Sale Shell
Can we gossip about the easiest solution in line? Yes!
You can very conveniently get rid of the issue by just restarting the Quickbooks POS Shell. To do so :
First of all, do not forget to close the Quickbooks Point of Sale software. Only then you will be able to do the process.
Next, you must go to the task manager. Either do that manually or by pressing Ctrl + Alt + Delete keys together.
Proceed with choosing the tab for processing.
Hence, you need to click right on the file with QBPOSSHELL.exe.
Here, tap to end the procedure.
Thus, get out of the task manager.
Now, you can open the POS.
With the guidance of the above-stated solutions, you'll no longer witness any such errors.
We have provided you with the easiest solutions in our reach for solving QuickBooks Point of Sale Shell Error.
Though, sometimes people face issues while resolving QBPOSSHELL Error. If you too are one of these victims of the issues and are not able to get rid of the error on your own, you will be needing expert help.
Thus, in that case, you should not hesitate to contact the experts through Quickbooks Support Number which is toll-free, and ask your inquiries there.
They will aid you with their professionalized services since the main aim is your satisfaction.