Amongst several great benefits and features of QuickBooks, there is QuickBooks Conversion tool that allows you to convert your company file from a different program. The Conversion tool performs this complex action without any data security compromises. For instance, you can convert Quicken 2017 to QuickBooks Desktop Pro or premier 2018/QuickBooks Desktop Enterprise Solutions 18.0 via conversion tool.
There are several great features and usages of this tool. This article will focus on these aspects.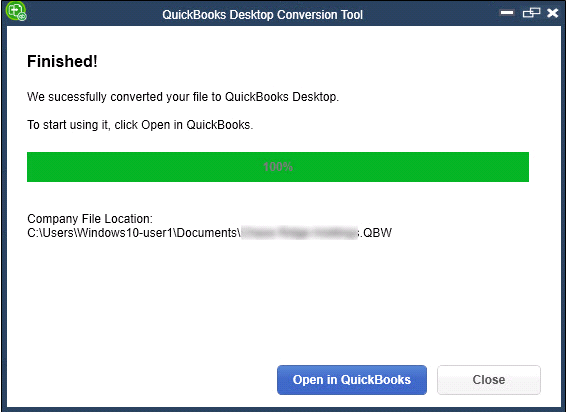 Advantages of using QuickBooks Conversion tool 
The tool helps out in the setup process to convert QuickBooks files.
It will import your data from the new 'QuickBooks Company '
It does not change your current/existing data files.
No data security compromises while conversion
Describes the current state of the business
Gives you a choice to import lists. You can also list plus balances and historical transactions.
Creates a log file during the conversion process to keep records.
Disadvantages of QuickBooks Conversion tool 
There are certain limitations about importing business data, transaction, and account balances from different financial software into QuickBooks. However, it can convert the employee list information that includes Social Security Number, and also the Payroll general ledger a/c balance info.
Paycheck, Payroll item, Individual employee wage, job costing, fixed asset items work tickets, estimates, Purchase Orders, etc. are some other items that Conversion tool cannot convert.
Get our expert Quickbooks ProAdvisor on call to resolve your query in no-time.
System Requirements for QuickBooks Conversion Tool
Below listed are the system requirements for a QB Conversion tool.
QuickBooks is properly installed and registered (Required for QuickBooks Pro, Premier, or Enterprise solutions 2014 or higher).
Microsoft SBA 2006, Peachtree (version 2001 or later), or MS Office Accounting 2008 must be correctly installed.
Operating System- Windows Vista, XP, Windows 7, 8 or 10.
A 512 MB RAM or greater
.NET 2.0 framework should be installed.
What is the Process to Use QuickBooks Conversion Tool?
Remember, to check and ensure that QuickBooks is installed, registered and licensed before you start using the "QuickBooks Conversion Tool". It is also important to ensure that either Peachtree or Microsoft software (that is the application of the file to be converted) is rightly installed on your computer.
Hence, no more delays, let's begin the process.
Double click on the Conversion Tool application and open it
Now select one option out of – my own company or My Client company.
Now select your accounting software from the drop-down box from which you are converting
Select Next
Choose the 'company file' and press Next to proceed
Now choose your QuickBooks product and select where the Company file is saved.
And, press 'Next' to continue
Now select conversion level as per the list& transaction or list only
Select NEXT
Select Accounting preferences as per the date & name, and Click Next
Now check your details and check if there are any errors.
Click the Start button
It will take some time to complete, dependent on the file size, and you will see the list of conversions.
Press Finish
Note: Another important point to note is that, if your data is already in the QuickBooks Format then you do not require a special conversion tool to convert your data.
How to Convert Quicken to QuickBooks
Use this conversion tool if you are looking to convert Quicken 2012 to QuickBooks Desktop 2018/QuickBooks Desktop Enterprise 18.0.
Use the Conversion tool within QuickBooks if you're converting from Quicken 2018 to QuickBooks Desktop 2018.
Moreover, to experience the desired Conversion tool, you need an updated Quicken data file to the latest supported version. Complete the update before you start converting it to QuickBooks.
Learn how to use QuickBooks Desktop Conversion tool efficiently and use QuickBooks sage 50 conversion tool 
How to Convert sage 50 to QuickBooks
To complete the process, Follow steps-
Go to Sage/Peachtree Company file access
Now go to Peachtree source company file selection.
Lastly, verify the results.
Hopefully, you have converted the software required correctly and rightly guided above. However, in case of any query speak to a technical expert at QuickBooks Tech Support Number.
QuickBooks is the leading accounting software and is providing all-around services without failing. You ever feel the need of taking advice from your fellow business owners that happened to be our existing subscribers, you can visit our thriving QuickBooks Community.