Are you searching for a finance software that can wonderfully take control of your personal finances and money management tasks? If yes, then you are at the right place. There are many accounting software in the market that can assist you in managing your finances; but, among all of them, "Quicken" is growing rapidly. Now, for the new software users, it is a must to know the detailed information of what is Quicken.
Quicken is a personal accounting software that is an exclusively designed money management cloud accounting system, which allows users to track income, expenses, and cash flow. Furthermore, its users can manage their property-related finances like, rental, handling taxes, creating custom invoices, and tracking investments.
About Quicken Software
The users of Quicken can organize and strategically streamline their accounting and financial tasks in one place. Furthermore, with Quicken it's easy to manage money on the web, desktop and mobile phone. With a single-click on their smartphones, they are able to see the entire picture of their finances and spending. The tool is a cost-effective alternative means to manage the user's finances.
This blog will help users gain a comprehensive understanding of what is Quicken software.
Quicken: Features and Uses
Here are some key features and uses of using Quicken 2019. These Quicken 2019 features will help you get a head-start into understanding the software.
Income and Expenses
The software holds a category system for tracking all expenses and incomes. Users have to put every expense and source of their income i.e. rent, salary or an internet bill. In this manner, these inputs are then organized as categories and the software then amalgamates the numbers for calculating the monthly balances. The tool helps in tracking the monthly cash flow.
Budgeting and Investment
Quicken software helps small businesses in analyzing expenses and income. To evaluate things, categorization will help in taking budgeting and investment decisions. It can be easily prepared into pie charts that assist users to analyze the graphs for vitals. In addition, this classification also tells the user, where there is a need to cut costs and how the business' performance is. The tool has an investment account feature that will track the small business' capital and also predicts the account's growth and investment.
Managing Accounts
Quicken brings all the money in one place as it imports the bank details into a simple interface. Users can download the transactions from the bank's website into the software so that the charts can be prepared for where your money is used. They can use the tool to Double-check their balance and reconcile Quicken against bank statements. The tool is perfect to manage the user's accounts accurately.
Documentation, Taxes and Loan Applications
The Documentation, Taxes, and Loan Applications feature of Quicken identifies taxable income and deductible expenses. Meanwhile, by entering the figures into the Tax Planner, it becomes easy to estimate the tax refund or burden. Not only this, the user's same end-of-fiscal-year balances are useful at the time of personal documentation or for presentations to creditors or investors. The tool's complete reports consisting of charts and trend graphs give vital financial statics. This will also make you ready for presentations and meetings.
Provides Online Banking
Quicken offers the facility of online banking features. Thus, to perform this an internet connection is required in your system and other paperwork needs to be done. The banking feature in Quicken is quite easy to use and saves your precious time. To use the feature, users need to use Quicken in the normal way and afterward hit a couple of additional buttons. In case your bank supports online banking, users can move money between their accounts and can get up-to-date statements.
Plan Personal Finances
The tool makes advanced calculations simple for its users. The software comes with a calculator. Quicken has five impressive calculators that give smarter borrowing choices. It also offers improved mortgage-refinancing decision making, retirement savings calculations as well as accurate calculations for savings and investments. Consequently, you can have a better understanding of where your money is going and the modifications are done right in time to meet future financial goals.
Prints Checks Feature
The purpose of printing checks is fulfilled with the help of Prints checks. Quicken print checks feature works quicker in case users have many checks to print. To print checks, only two things are necessary. First of all, users need to go through the check supply information and after that, they need to choose form as per their style. After that, they need to order the form.
After knowing what is Quicken and its features the readers can grab more knowledge on Quicken System requirements.
Get our expert Quickbooks ProAdvisor on call to resolve your query in no-time.
Quicken System Requirements for Windows and Mac
 Quicken System Requirement for Windows
PC: 1 GHz or more

OS: minimum Windows 7, 8/8.1, or 10

Memory: at least 1 GB Memory

Space in Hard Disk: Minimum 450 MB free disk space; 1.5 GB if .NET is not installed on the machine

Monitor: 1024×768 or greater screen resolution. Together with, a 1280×1024 minimum for Large Fonts settings

Connection of an internet: Broadband internet connection

Online access is necessary for activation

Microsoft .NET 4.6 or a newer one
Quicken System Requirement for Mac
Quicken software 2019

PC: Intel-based Macintosh

OS: Mac OS X 10.11 (El Capitan), 10.12 (Sierra), or recent

Memory: 256 MB or more than this

Hard Disk: Minimum 100MB is required

Display: 1280×800 or larger

Connection of Internet: Broadband

Online access is vital for activation
Quicken Versions
Quicken comes in four versions for money management purposes. Thus, the brief explanation will give users a clear picture of the software's versions. The versions work effectively if the users understand their specific functionality and then see the ways in which it can specifically benefit them:
Quicken Starter 2019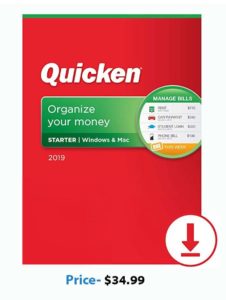 Pick Quicken 2019 Starter in case you want the following
Users wishing to see bank and credit card accounts in a particular place.

Users want the software to sync with their mobile devices.

If they want to see where they spend their money and plan a budget.

When there is no need to track investment accounts.

Users don't need to import data from the earlier versions of the software.
Quicken Deluxe 2019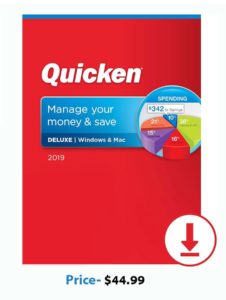 As a user you can Pick Quicken 2019 Deluxe in case you want the following
Users want to track loans, a mortgage and make plans for reducing debt.

If users wanted to know the performance of their investment and retirement accounts.

It can be used to create savings objectives like that for a house, college, or other major purchases.

When there is a need to import data from an earlier version of the tool.
Quicken Premier 2019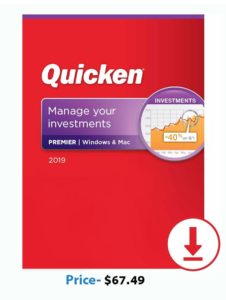 Select Quicken 2019 Premier in case these are the advantages that you are looking for:
Firstly, if users want to handle their investments.

Users wish to compare investment returns against market averages.

They want to view their real-time portfolio value with constantly updated quotes.

Users need to use the new Portfolio X-Ray tool for scanning holdings to classify strengths and weaknesses.

At the time of making taxes organized by keeping a proper track of deductions and creating specialized tax reports.
Quicken Home, Business, & Rental Property 2019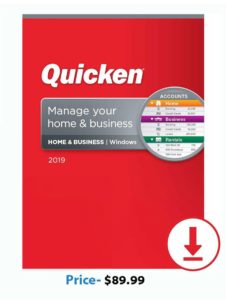 Pick Quicken 2019 Home, Business, & Rental Property in case:
They need to keep track of personal as well as business expenses.

When users own or manage rental properties.

They want to have a glance at profit and loss reports.

They wish to create a Schedule C or E report for the tax season.

Users want help in identifying tax-deductible business costs and/or rental property expenses.

They need to make high-quality invoices and estimates.

They like to track expenses and income via rental property.

Users wishing to see where rent has been paid and where it needs to be paid.

Finally, the users need to keep rental documents in one place.
What's new in Quicken 2019?
Quicken 2019 has come up with robust, flexible advancement as compared to its earlier versions. It can automatically receive updates with up-to-date product enhancements. Along with this, managing investments on Quicken for Windows, viewing operations has become quicker than before. Whereas, its Mac feature allows its users to manage their finance in an appropriate manner. Users will also experience the feature of face and touch ID with the tool app.
The users can handle and easily maintain investments on Quicken for Windows, investment register and also definite portfolio view operations quicker than before.

The software gives enhanced and the most streamlined connectivity to brokerages and banks as compared to all its contemporaries.

The tool consists of over 500 customer-requested fixes and improvements plus significantly improved trustworthiness.
Quicken 2019 For Windows
Quicken for Windows can access the updated version of the software throughout their membership. It also secures an additional online backup of 5 GB for the software files through Dropbox.
Quicken 2019 for Windows features:
It offers extended custom report layout choices as well as direct Excel exports.

It is easy and convenient to see all the reminders in a single bill dashboard.

Management of money can be handled from anywhere on the Web.

Viewing bills calendar feature is back with the software.

You can experience a new enhanced Portfolio view, etc.
Quicken 2019 For Mac
Quicken 2019 for Mac has come up with great feature enhancements for the users. The up-gradation in of software helps the user with everyday updates. Opening and closing of the program have become easier than before for its users. Along with this, they can also see the investment returns by the class of security, investment, etc.
Quicken for Mac features:
The users can access the newest version of software all through their membership.

Access 11,000+ online billers along with bill PDF downloads.

It also gives 5GB of secure online backup for the tool's files with Dropbox.

It offers a new enhanced Portfolio View option to its users.

Managing all of the finances in one place becomes easier for users.
Quicken App
The personal finance app can be used with Quicken desktop software for free. Taking decisions with your money and financial matters is easy with App. Any kind of business can be handled with the software. It is accessible for iOS and Android users in which there are no extra charges. Along with this, its features depend on the version of the tool being used.
Features of Quicken App
Quicken App syncs the Mobile app with the Desktop.

Users can enter transactions as per their spending habits.

It gives additional protection with your face ID and touch ID.

The app can snap and store receipts.

Offers data access guarantee assurance to its users.

The Passcode is protected and backed by 256-bit encryption, etc.
Wrapping Up
After going through the blog in its entirety the users must have got a clear understanding of what is Quicken. It also talked about the features and usage of the tool to give you the idea of how Quicken 2019 brings all your accounts in one place. We have also highlighted the system requirements so that the users don't find it difficult to use the software on Mac/Windows.
Managing personal finance is a smart decision with Quicken. To know more about what is Quicken, you can dial Quicken Support Phone Number.