In the Accounting terms, a QuickBooks journal entry has two aspects, i.e. a debit entry and a credit entry. As a rule, the sum of the Debit Column is equal to the Credit column. QuickBooks Online feeds the transactions in the register/account history as journal transactions. Use the Journal Entry in QuickBooks Online when you have to:
Send Money between income & expense accounts
Transfer money from an asset, liability, or an equity account to the income or the expense account.
If you need to enter debits and credits in General Journal or the Ledger.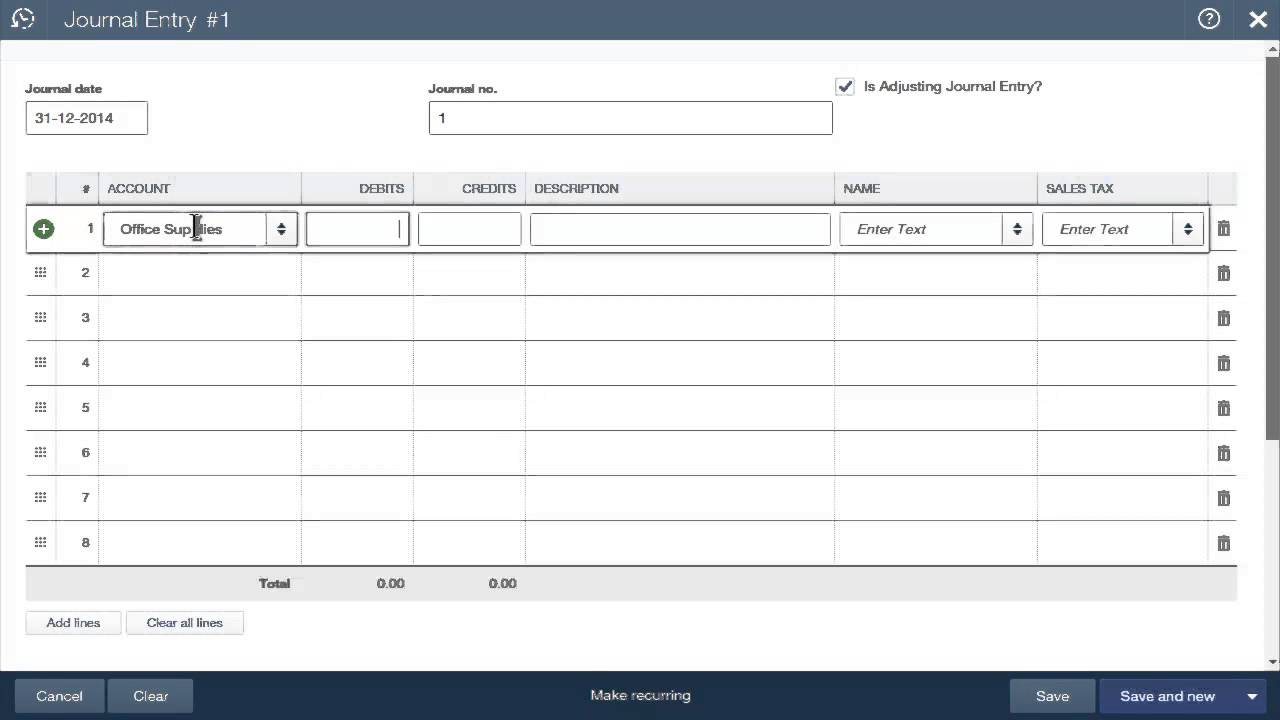 In this blog, we will concentrate on How to Create Journal Entry and other essential points related to it. So, let's begin
What is a QuickBooks Journal Entry?
A general journal entry is an accounting transaction which posted directly to the company's general ledger. Journal entries in QuickBooks allows you to adjust transactions post entries.
The process is very simple but you can make a single entry for a customer at a time. If you want to make changes for multiple customers, you need to post separate entries.
Mostly Journal Entries for QuickBooks are done for Income Tax provisions, Depreciation Entries, and Loan interest Adjustments. There are certain conditions to create Journal Entries. These Rules are given below:
Have to Include One Account Receivable or Accounts Payable type account every entry.
Use Accounts Receivable or Accounts Payable Account on the second line of the journal entry
Entry to Accounts Payable type or the Accounts Receivable will need a customer or vendor.
Do not make Journal Entries to Inventory or Payroll Accounts.
Also Read: How to read your QuickBooks General ledger?  
Steps to make a Journal Entry in QuickBooks Online

Discuss with Accounting Professionals for knowledge and guidance. If you still do not know which account needs the Debit and Credit side of the transaction then follow the below instructions properly. Follow the below steps properly to create a Journal Entry in QuickBooks Online.
Go to the top and select 'Plus icon' and click Journal Entry option
Now Enter Transaction Date in the Journal Date Field
Put a Journal Number of the transaction in the report so that you can identify the transaction. (Optional)
Fill in the first distribution line.

Accounts – The accounts in the Chart of Accounts
Journal Code (For France Only) – Fill in the Journal Code related to the account. It is essential to add a New Journal Code. You need to use the same Journal Code related to the transaction for debit and credit accounts.
Debits or Credits – Usually, the first in line is Debits. You can look for the transactions in a recent transaction report. See if debit has changed as per the choice or after you have saved the transaction.
Description – You need to enter a description to view Transaction details on Reports. (Optional)
Name – Choose a customer, vendor, or employee-related to the Line if there is any.

If the total of Debit Column Entries does not equal the sum of Credit Column Entries, then continue to fill in the Distribution lined until the total of both transactions is equal.
Select to make recurring Journal Entry Schedule. (Optional)
Save transaction.
Get our expert Quickbooks ProAdvisor on call to resolve your query in no-time.
Things to Remember to Make Journal Entry in QuickBooks 
Every Currency should have its Journal Entry as QuickBooks Online does not support Multi-Currency in a one Journal Entry. Many times, multiple currencies do not get converted to correct rates.
To reflect on Sales or Expense tab, ensure that entry has a line for either A/R or A/P, and the vendor or customer name.
View the additional column for location & class if you are using the QB Online Plus. The feature of Classes & Locations is ON.
In case you create an entry by chance, and you need to correct the transaction, then you can delete or reverse the Journal Entry. 
That's all here. Hopefully, you are well aware of the process now and can create Journal Entries in QuickBooks easily. In case of assistance and guidance take technical help at QuickBooks Online Support Number.
If you ever feel the need of taking advice from your fellow business owners that happened to be our existing subscribers, you can visit our thriving QuickBooks Community.