How to Fix Multi User Issues in QuickBooks for Mac?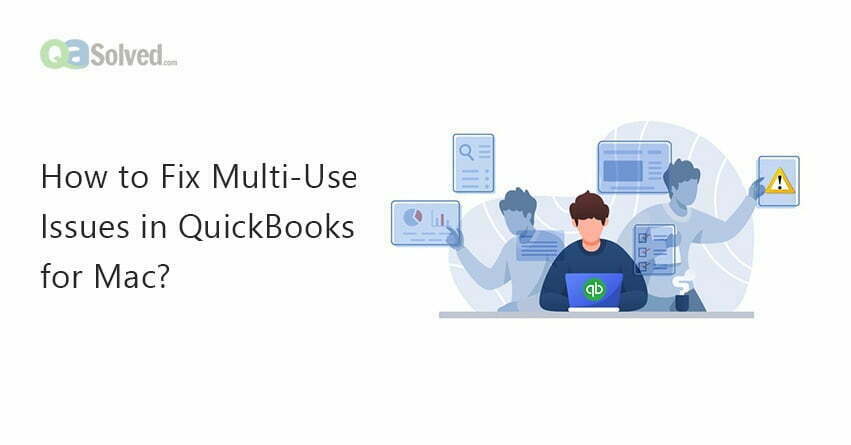 Multitasking can be a tedious job for humans and it is fairly not recommended, similarly though QuickBooks is and robust software designed to be used in multi-user mode; at times the QuickBooks for Mac can go irate and present some issues regarding working in QuickBooks Mac multi user mode.
Hence, the following article will you to surge through the problem for you and avoid it in the forthcoming time.
Steps for resolving QuickBooks Mac multi-user issues
The below-mentioned steps are easy to surge through the issue
1. First of all, Check whether the requisite file has been shared
`QuickBooks for Mac > go > server > select the QuickBooks server. app > follow the steps to share the file if needed.
2. Check QuickBooks Mac's firewall settings
First of all, Click on the apple icon in from the taskbar > system preferences > security and privacy > firewall > in case the firewall button appears in greyish color then click on the unlock option to unlock the firewall settings changes > set the QuickBooks for Mac in the allow incoming connections.
3. Enough Credentials are there for the shared file
Select the apple menu > system preferences > sharing > check if unchecked the file sharing option > add the requisite file's folder > in user column set the permission check read and write for everyone is enabled.
4. Check your network connection
Perform this step when you are stuck such in a situation or system phase.
Disconnect the internet connection.
Restart the machine.
Reconnect the internet connection.
Open the QuickBooks for Mac
Enable the multi-user mode.
You May Also Read: QuickBooks Mac 2019 – Features and Benefits  [xyz-ihs snippet="consult-button"]
5. Set peer to peer direct connection
Two machines can join using ethernet cables.
Shut-down or log out from your mac.
Connect both the computers using singles ethernet cable.
Re-login or switch on both computers.
Allow bonjour services for both the computers.
Check if both the computers can see each other in the shared section.
Select one computer as a host.
Enable multi-user mode.
Open company file on the second machine.
6. Finally, General troubleshooting option for QuickBooks mac multi-user mode
Consider changing your energy-saving settings – as this might lead your PC to switch to sleep mode really quickly when there are no external activities.
Use a stronger Internet connection that has active and strong Wi-fi. A low range Wi-fi or a weak Wi-fi will lessen the possibilities of working on the multi-user mode.
Avoid changing your network and sharing settings –  the unwanted or impromptu changes can lead to multi-user mode failure. Turn-On the Multi-user mode and do not change it after that.
Hopefully, and mostly the above article will be of great help in the rectification of the issues relating to the QuickBooks mac multi user. But there are possibilities when the issues might reoccur or will not get resolved, in such case contact QuickBooks Tech Support Number for to the point approach and assistance.
Furthermore, if you ever feel the need of taking advice from your fellow business owners that happened to be our existing subscribers, you can visit our thriving QuickBooks Community. It has numerous answered questions that could lead  to resolving many of your QuickBooks related problems.
Summary
Article Name
How to Fix Multi User Issues in QuickBooks for Mac? - QASolved
Description
QuickBooks Mac can present some issues regarding working in QuickBooks Mac multi user mode. In this blog, we will discuss explain how to fix the issue.
Author
Publisher Name
Publisher Logo