QuickBooks Error 15223 is reoccurring common QuickBooks error that QuickBooks Desktop face. It appears while you are looking to download QuickBooks Payroll or QuickBooks Desktop updates.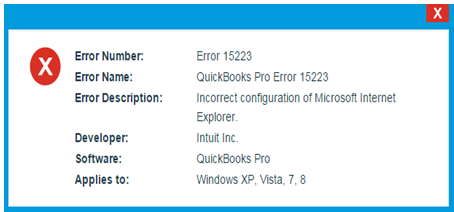 QuickBooks error 15223 can come up with different error messages such as:
QuickBooks Desktop Updates were not completed
Unable to Connect to QuickBooks Desktop Payroll
Now we will see what possible causes for QuickBooks Error Code 15223 are.
Causes of QuickBooks Error 15223
Below given are a few of the possible reasons that might lead to
Corrupt or Damaged windows files
Inappropriate IE configuration
Internet Explorer Digital signature needs to be updated
Incomplete/unsuccessful QuickBooks installation
Damaged Windows registry from a recent QB related software
System infected with a Virus or malware infection
QuickBooks related files mistakenly got deleted by some other program
Also Read: Resolve QuickBooks Error 15242 When Attempting to Update Payroll
Solutions to fix QuickBooks Error 15223

Now we know the nature and causes of the QuickBooks error code 15223. The next thing is to understand how can we correct this. We will discuss 3 recommended solutions to correct this problem.
Solution 1 
Verify 'Use TLS 1.1 & Use TLS 1.2 ' are not marked and only Use TLS 1.0 is marked in the IE( in the internet options window). 
First Open IE (Internet Explorer)
Select Tools>> Internet Options
Now click on the 'Advanced' tab
Go to settings, and navigate to 'Use TLS1.0, Use TLS 1.1, & Use TLS 1.2 options'
Note: The above options might not be present in Internet Explorer v
Check and Verify 'Use TLS 1.1 & Use TLS 1.2' are not marked & ensure TLS 1.0 is checked.

Solution 2
Press Apply and press OK to leave the window
Now try to download the 'Updates '
If the error is there, then do a clean Uninstall/Reinstall in the 'Selective startup.' Ensure to manually rename- C:\program files\common files\intuit\QuickBooks.
After the successful re-installation QuickBooks desktop in the Selective Start-up mode, now download the QuickBooks Desktop update.

Solution 3
If the above two solutions not fixed QuickBooks Error code 15223, then you can try this solution:
Here we need to register the two files manually
Steps for registering the First file
Press on Windows start and got to RUN ( for windows 7 and vista – switch on the 'RUN' command in Windows 7 & windows vista)
Now copy – regsvr32/s% systemroot%\ system 32\softpub.dll
Now paste this in the Open field and press OK
If you see a successful registry, then there will be no messages
However, if it does not get the message, now verify and ensure that you have copied the 'Register file' exactly.
Note: If you are still receiving messages while registering, then it can be an issue with the system. 
Steps to register the second file
Press Windows & go to RUN( Enable RUN for Windows 7 & windows vista users)
Copy – regsvr32 /s % systemroot%\system32\wintrust.dll
Now paste in the 'Open field' and click OK
You will not receive messages if the file is registered properly
However, if the messages are still coming, then it can be a problem with your system.
Clear IE SSL state
Open Internet
Select Tools>> Internet option & press 'content'
Press 'Clear SSL '
Now restart the system & after opening the QB Desktop download the tax table update
Now you can configure the Firewall, Antivirus, or the third-party programs.

If you are not sure about the issue with your QuickBooks Error message or desire to know how to perform troubleshooting steps to fix QuickBooks error 15223, immediately get in touch with support desk at QuickBooks error tech support  1-877-263-2742.