Millions of businesses trust QuickBooks Desktop as the finest Accounting Software. Moreover, it helps to transform complex manual accounting procedures into a simple process. Presently, QuickBooks Customer Support provides assistance for QuickBooks Pro, QuickBooks Premier and QuickBooks Enterprise for the QuickBooks Desktop version 2015 to 2019. However, the issues arise if you upgrade to Microsoft Windows 10 and QuickBooks Windows 10 compatible version is not installed. As per Technology experts, Windows 10 supports QuickBooks version 2016 and higher.
You will face QuickBooks compatibility issues with Windows 10 if you decide to upgrade to Windows 10 and unsupported QuickBooks version is installed.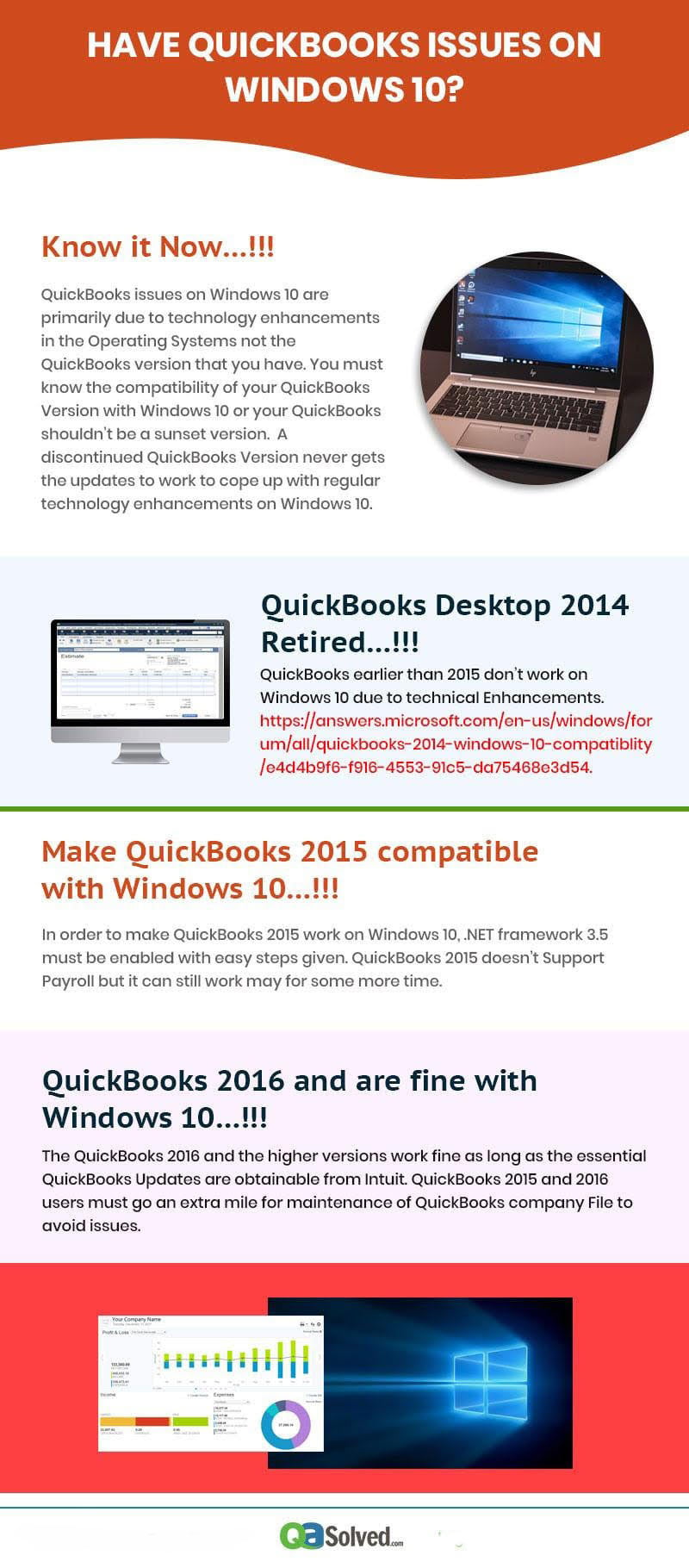 If you need to upgrade your computer to Windows 10, then replace unsupported QuickBooks with the QB version compatible with windows 10.   QuickBooks Desktop Upgrade not only offers the latest features but helps you avoid QuickBooks windows 10 compatibility error. To help you understand better about Windows 10 Supported QuickBooks Versions take a look on the list below:
QuickBooks Desktop 2016 R7 and higher
QuickBooks 2016 R7 has no compatibility issues with Windows 10. If your QuickBooks is older than QB 2016 R7 you have to upgrade your QuickBooks to the compatible QuickBooks version with Windows 10 to avoid QuickBooks Windows 10 error. The latest versions have less QuickBooks technical issues in comparison to the QuickBooks versions older than 2016.
QuickBooks Desktop 2015 and 2016 (Release 1 to 6)
There are regular latest updates and patches available for windows 10 to ensure right and compatible components are there. As per an industry analysis, .NET Framework 3.5 is a compulsory component to run QuickBooks 2015 with Windows 10.  The .NET framework 3.5 get the update to higher version when windows 10 updates are installed. Missing or disabled .NET framework 3.5 makes QuickBooks 2015 incompatible with Windows 10 and the same applies to the lower versions too. Therefore, to make QuickBooks 2015 compatible with Windows 10 enable .NET framework 3.5.
Get our expert Quickbooks ProAdvisor on call to resolve your query in no-time.
How to make QuickBooks 2015 compatible with Windows 10?
In order to make QuickBooks 2015 work on Windows 10, enable .NET framework 3.5
Open Windows Control Panel >> Programs and Features and Select "Turn Windows features On or Off".
Scroll through the items to locate ".NET Framework 3.5".
Enable the .NET Framework 3.5 option.
Exit out of the control Panel.
Restart your computer.
Once your computer comes back up after reboot, open QuickBooks to verify if it works fine or you still have QuickBooks Windows 10 Compatibility issues.
In QuickBooks versions older than 2015, you are most likely to encounter QuickBooks Error 15271, if you try the same steps mentioned above to make QuickBooks 2015 work on Windows 10. The QuickBooks Sunset versions can't be configured to be work on Windows 10 and such attempts would produce futile results. Experts recommend upgrading to the latest QuickBooks version.
If you experience difficulties or if you need to know more about Windows 10 and updating the version, then feel free to seek assistance from Our QB Experts are available for you round the clock at QuickBooks Desktop Support Phone Number.
You ever feel the need of taking advice from your fellow business owners that happened to be our existing subscribers, you can visit our thriving QuickBooks Community.