Reconcile bank and credit card accounts in QuickBooks Desktop
Reconcile is a process of matching transactions that a user-entered in QuickBooks Desktop with your bank or credit card company's record. We recommend you to reconcile in QuickBooks Desktop on a regular basis to ensure the accuracy of your accounting data.
QuickBooks Desktop accounts all the transactions such as payments, deposits, and bank fees.

All transactions in your QuickBooks bank register, as well as its ending balance, match what you have in your actual bank account.
Disclaimer: Before you start Reconciling your bank account you should follow steps: 
Backup your QuickBooks Company file

Make sure the bank or the credit card account in QuickBooks has a correct beginning balance

Enter all uncleared transactions for the statement period keep

A record of your bank or credit card statement
Get our expert Quickbooks ProAdvisor on call to resolve your query in no-time.
Steps to Start Reconciliation Process in QuickBooks Desktop
The Begin Reconciliation Window
In this window, you choose the bank or the credit card account to reconcile the information. Then the user can review all the information corresponding to it. It is important that all information in this window is accurate before proceeding to the next step.
To go to the Begin Reconciliation window, go to the Banking menu and click Reconcile: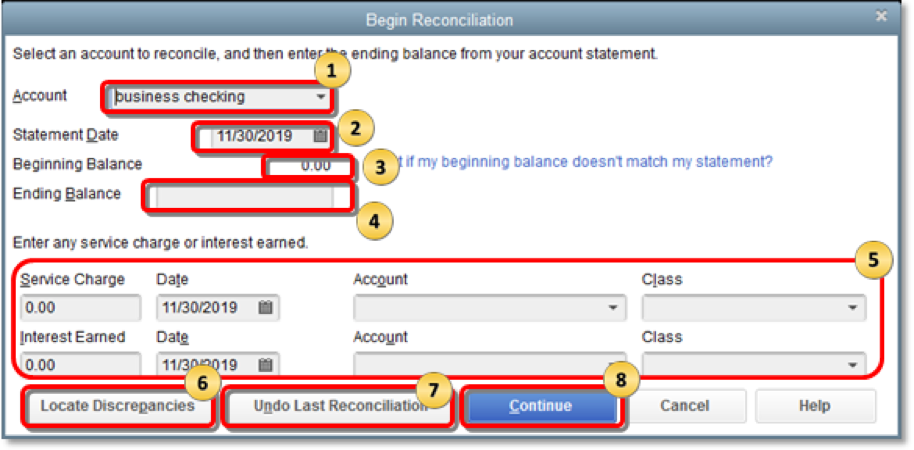 In the

Account

field, select the bank or credit card account you want to reconcile.

The user can see the Statement Date is automatically there. It normally is 30 or 31 days after the previous statement date. You can change it as needed.

Beginning Balance

is automatically filled in. It is the sum of all previously clear transactions. Additionally, make sure it is the same as the opening balance shown on your statement.

In the

Ending Balance

field, enter the corresponding balance from your statement.

If your bank statement displays service charges, earned interest that you haven't entered into your QuickBooks, enter those amounts into the

Service Charge

and

Interest Earned

sections. Do NOT enter charges you have already entered as QuickBooks transactions.

Click

Locate Discrepancies

to see available reports that will help you track discrepancies and other reconciliation issues. You will also be provided with the option to Undo & Restart Reconciliation on the Locate Discrepancies window.

Click the

Undo Last Reconciliation

button if troubleshooting requires you to revert to the previous reconciliation.  

If all information is correct, click

Continue

to proceed to the Reconcile window.
Why do you Need to Undo your Last Reconciliation?
You will normally need to undo last reconciliation when you cannot locate discrepancies during reconciliation or if you want to change the date of the opening balance. It takes previously clear transactions as unclear when you undo the reconciliation, and your beginning balance goes back to the past beginning balance.
The Reconcile Screen
On this screen, you can refine the choices you want to match against your bank statement. This is where you select transactions to clear. If this screen shows no difference after you select all transactions that appear on your statement, then you can simply click the Reconcile Button and you're done reconciling the account.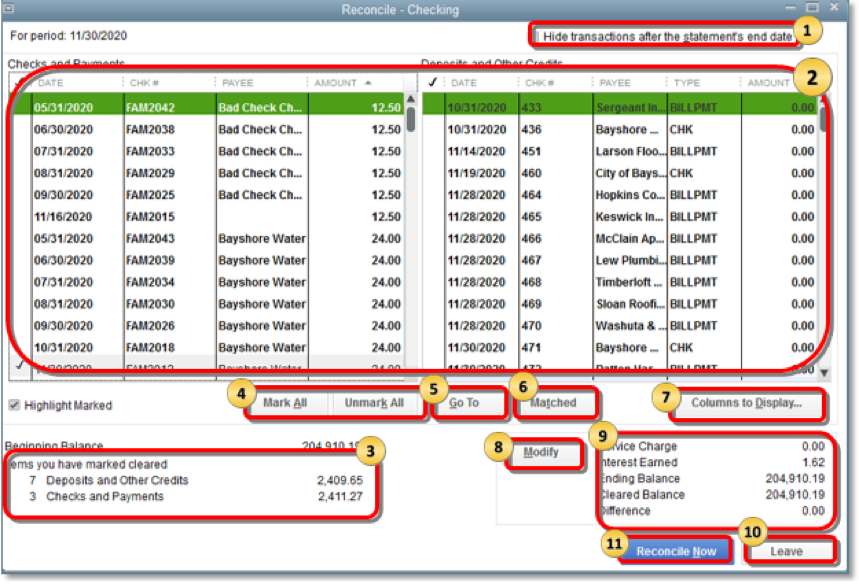 Hide transactions after the statement end date Checkbox:

You can put a check mark in the box if you want to display the transactions covered only by the statement period you are working on. This will help eliminate the confusion, especially if you are behind in the reconciliation process.

List of transactions entered in QuickBooks Desktop:

These are listed and divided into two sections – the

Checks / Payments

(Money out) and

Deposits and other Credits

(Money in). If you are reconciling a

credit card

, the sections are

Charges and Cash Advances

(purchases) and

Payments and Credits

(payments to the credit card company). Validate the transactions against what you have on the bank or credit card statement. Click only the ones that appear on your statement and ensure the amounts are the same. You should be able to notice that as you select transactions, the

Cleared Balance

changes.

Items you have marked cleared:

This section will display the total number and the total amount of Deposits & Checks you've selected. Some banks provide a similar summary of transactions on the statement. This section will save you time if you need to check any possible discrepancies.

Mark All/Unmark All Options:

Click either of these buttons to select/deselect transactions. Selecting all transactions at once saves you time. This happens when you reconcile on a regular basis and all the transactions for the statement period correctly. You need to make sure that the reconcile window shows no difference between the ending & clearing balances.

Go To Option:

Click this button to open (and edit) the transaction from the reconciliation window. This option is helpful if you require to make minor modifications to the transaction

.
Matched Option:

If the account that you reconciling is set up for bank feeds, clicking this button will automatically select all the transactions that were downloaded and auto-matched.

Columns to Display Option:

Click this button to choose the fields you want to display.  

Modify Option:

Click this button if you have last-minute changes to the information you entered in the Begin Reconciliation window.

This section provides you with a slight view of the reconciliation figures.

Service Charge:

Interest Earned, and Ending Balance: They are all based on the amount you entered for these fields in the Begin Reconciliation window.

Cleared Balance:

The figure decreases as you select/clear checks and payments and increases as you select/clear deposit and other credit amounts.

Difference:

This gives you the difference between the beginning balance you entered and the cleared balance (the transactions you've selected so far). Ideally, this should be zero.

Leave Option:

Click this button if you need to go out of the reconcile window to work on another account or to edit transactions.

Reconcile Now Option:

Click this button if you are done selecting all transactions.
If you want to know more about how to reconcile in QuickBooks Desktop and for any other QuickBooks Support connect with us at at QuickBooks Help Desk Number and speak to Certified QuickBooks ProAdvisor Support team.
Thank you for visiting our site. We are always ready to help you with any of your queries related to QuickBooks. We feel glad helping you, and you are always welcome over here on this platform. Further, if you ever feel the need of taking advice from your fellow business owners that happened to be our existing subscribers, you can visit our thriving QuickBooks Community. 
Also Read: