Since you are already looking to figure out your data corruption on QuickBooks, you must know what QuickBooks are. Intuit created and marketed QuickBooks, an accounting software program. But most importantly, how to deal with QuickBooks file repair. 
The QuickBooks Data File is essentially a large database. There are no moving programs or elements (this is all in the QuickBooks Software). The data in the file must be arranged and sequenced appropriately for the program to read it correctly. The program struggles to retain all of the data in order when the data file becomes more significant than 200 megabytes. This can lead to inaccurate reporting, and an excellent place to start is with the Balance Sheet.
Can the QuickBooks file be corrupted?
The QuickBooks Data File is essentially an extensive database. With great power comes great responsibility, and in this case, with a lot of data comes the risk of data corruption. We got you covered here as the following ways can help you identify even a tint of data damage:-
You come across some Errors that state QuickBooks cannot continue in the Verify Data section of your screen while accessing the

Qbwin.log file

due to a data error.
When you try to save or remove a transaction, QuickBooks shuts unexpectedly.
The reports are created wrongly. The total assets, for example, do not match the total liabilities and equity on the balance sheets.
The transactions and entries appear to be missing from the listings.
Because the original accounts were absent, you may notice an asterisk (*) produced by QuickBooks.
When total assets are not matching total liabilities and equity, you know you have a problem. Comparing the balances in similar accounts on multiple reports might potentially reveal corruption. 
Net Income, Accounts Receivable, and Accounts Payable can compare other statistics to other QuickBooks reports. If these figures don't add up, then QuickBooks files are corrupt.
How to Use QuickBooks file repair to fix the damage?
If a faulty file is linked to any external reporting tools, you'll almost certainly see inaccurate reporting or possibly a failure in the sync process. The good news is that data corruption can be fixed using QuickBooks file repair tools and QuickBooks file repair software. 
Following are some solutions to tackle QuickBooks file repair:-
Solution 1: Use the Rebuild Data tool to repair your company file
There is the Rebuild Data tool on QuickBooks desktop, which automatically corrects minor business file data errors.
Go to the File menu, select Rebuild Data, and then hover over Utilities.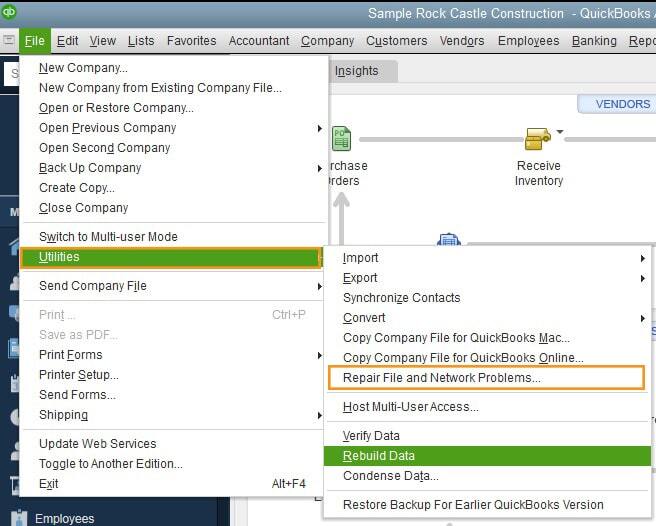 Now go to the Information window and click on OK. 

Follow the on-screen instructions to save a backup. The program will help you to fix your file.

QuickBooks may appear as if it is frozen, but it is functional as long as you can move your mouse.

When the work of the tool is finished, click on the OK button.
Go to the File menu and then select the File required. Then, from the utility menu, choose Verify Data. Allow the application to examine the data in your file.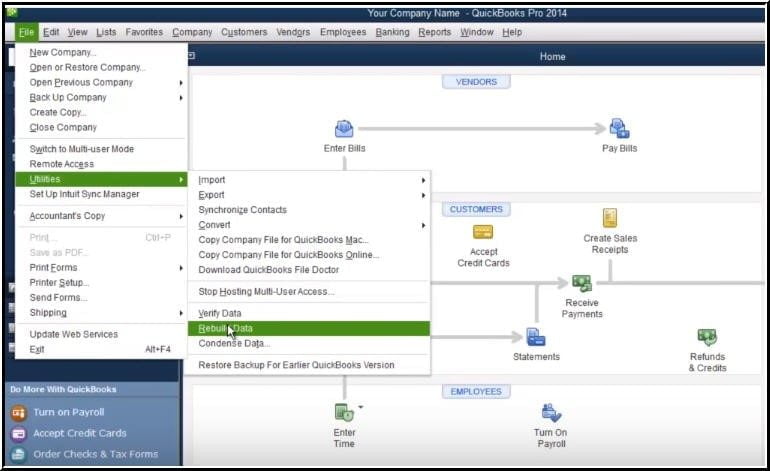 If QuickBooks does not catch any problems, click on OK. You may continue to use your corporate file.
Also Read:  How To Fix QuickBooks Company File Data Damages? 
Get our expert Quickbooks ProAdvisor on call to resolve your query in no-time.
Solution 2: Rebuild your data and manually fix your company file.
You can locate the mistakes you can address from the Verify Results window if you're comfortable manually resolving them. Make a backup of your firm file before you begin.
To manually correct data mistakes, follow these steps:
Go to the File menu and select File. Then click on Verify Data from the Utilities menu.

Allow the application to examine and check the data in your file.
To see the mistakes, choose Expand All from the Verify Results screen.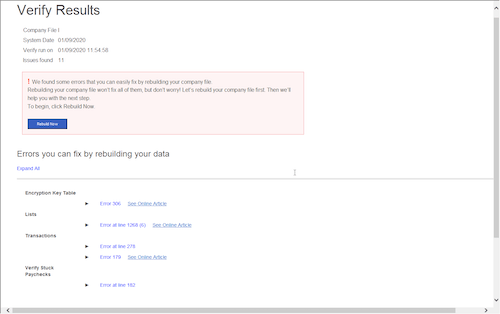 Select See Online Article to learn how to repair the problem. If there isn't an article for the mistake, contact support for assistance in fixing your company file.
Solution 3: Use QuickBooks File Doctor
If you can't repair your company file by recreating the data or using the File Doctor, contact support and Intuit QuickBooks file repair service will assist you.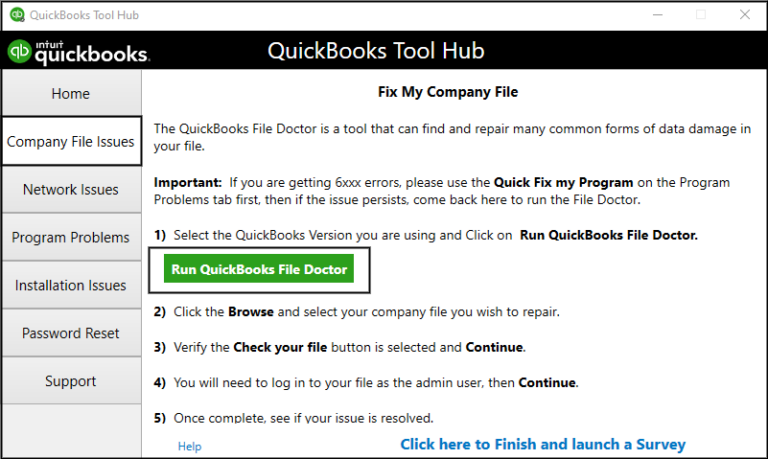 QuickBooks file repair tools and softwares
We've put together a list of some QuickBooks file repair software and tools which you may use to ensure years of error-free QuickBooks operation:-
QuickBooks Software is a powerful QuickBooks file repair service that can assist in restoring every bit of data held in severely damaged or corrupted QB data files. The repair utility's powerful scanning algorithms aid in the recovery of all QuickBooks Company file components.
QuickBooks File Doctor, developed by Intuit is a QuickBooks company file repair tool that restores damaged corporate files by identifying and correcting internal problems such as file header corruption. It also aids in detecting networking difficulties in multi-user installations and eliminates several QuickBooks errors. The QuickBooks File Doctor utility is free to download from Intuit's website.
The information mentioned above would be enough to recognize and detect QuickBooks file damage.
Conclusion
This takes us to the conclusion of this blog, where we hope that the QuickBooks file repair tools described will help deal with QuickBooks file repair. Some tricks are hidden down the sleeves in the intuit QuickBooks file repair service mentioned above. However, some FAQs here and there won't hurt anyone.