While print pay stubs QuickBooks on a blank paper, the company name, address & the phone number reflect at the top and base of the page. QuickBooks Paycheck or stubs feature allows you to email Pay stubs from QuickBooks Desktop to the employees. QuickBooks Print Pay Stubs serve as a physical record of the Paycheck amount and date. By using the Payroll Printing Preferences in QuickBooks, you can create QuickBooks Desktop pay stubs with the required info that you want the employees should have.
QuickBooks Print Pay Stubs
QuickBooks print pay stubs are produced as 'password-protected Pdf attachments' and they save the format and layout of the Paystubs. The blog will depict two recommended methods of printing pay stubs in QuickBooks. 
Methods of Print Pay Stubs in QuickBooks Desktop
Method 1: Print Pay Stubs from QuickBooks Desktop File Menu
In this method, we will use QuickBooks Desktop file menu and its other options to print pay stubs. Let's see how:
Select File>> Print Forms> Go to pay stubs
Now choose 'Payroll bank account' and fill in the date range that has the pay date of the pay date that has to be printed.
In case you want to filter by 'one employee,' select 'employee' from the drop-down that is next to Employee option.
Now choose the column alongside the date, and choose the Pay Stubs you are looking to print.
Optionally, you can select Preview to see the Pay Stub before printing it.
To choose the company & employee info that will be there on the Pay Stub – choose Preferences.
To print a 'Global message' for each pay stub. Enter content in company message to print it for all pay stubs boxes.
Now choose ''
To get info about Print Pay stubs window, you can select the HELP option.

Method 2: Print Pay Stub from Paycheck
Next method involves printing pay stubs using paycheck.
Open paycheck in QuickBooks Desktop
In the check, choose Print icon and select Pay Stub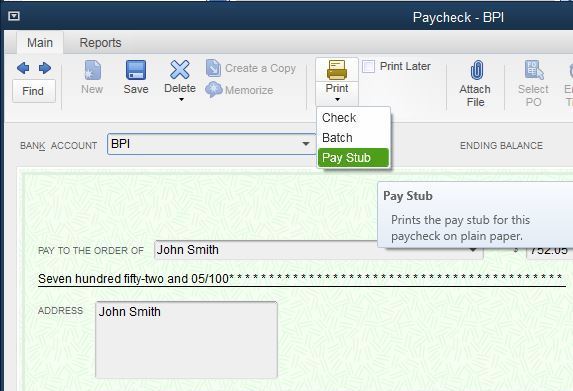 Method 3: Print through the Paycheck List
Firstly, choose Employees in the left side navigation bar.
Now, click on the Employee name to pay
Next, press 'Paycheck List' on the employee's page
Now you need to select 'Checks to pay'
Look for the check numbers if they are applicable.
Now, from the drop-down arrow choose 'Batch Action' and choose 'Print'.

Also Read:How to Speed up QuickBooks Performance?  
Method 4: Print by Pay Stub and Voucher Printing
First Launch QuickBooks, then press on the Menu Bar to click 'Edit'
Go to the drop-down list Choose 'Preferences'
Click 'Payroll & Employees'
Now press on 'Company Preferences' tab, and select 'Full Payroll' in QuickBooks Payroll features section
Now, go to the 'Set Preferences for' section and choose 'Pay Stub & Voucher Printing'. You will be on the Payroll Printing Preference windows.
Now click on the checkboxes you want to include in the 'Paycheck Vouchers & Pay stubs, Print' section.
In case you want the company name to come up on the 'Pay Stub', then click on 'Legal Company Name'.
Once you have selected all the items you can click the 'OK' option.
With each paycheck, a Paystub with selected info will print automatically.
Get our expert Quickbooks ProAdvisor on call to resolve your query in no-time.
Method 5: Print via Bill Payment stubs
Go to the File menu, Press 'Print Form & select Bill Payment stubs'
Go to Bill Payment drop-down menu, choose Credit Card or Check depending on the method for bill payment.
Now in the account drop-down, choose the appropriate Bank/Credit Card account
Enter the beginning and end dates in the Dated & amp section to list payments from a different date range.
Select Checks for which you want to print Bill Payment stubs.
Note: When you select checks, QuickBooks gives you the total number of Bills tubs & corresponding total amount. 
Press OK.
In the Print Window, check printer/ font & specify the total number of copies and press Click "Print".
If the above-provided solutions have not been helpful, immediately dial QuickBooks Technical Support Number and get in touch with certified QuickBooks expert to resolve QuickBooks Desktop print pay stubs issues.
If you ever feel the need of taking advice from your fellow business owners that happened to be our existing subscribers, you can visit our thriving QuickBooks Community. Still, if you do not find an answer for your specific question within the community. In that case, you can also post your question in the community to get the requisite answer from the contributing members.